Augusta Facial Aesthetics Offers Comprehensive Aesthetician Services to Clients in the Greater Augusta GA Area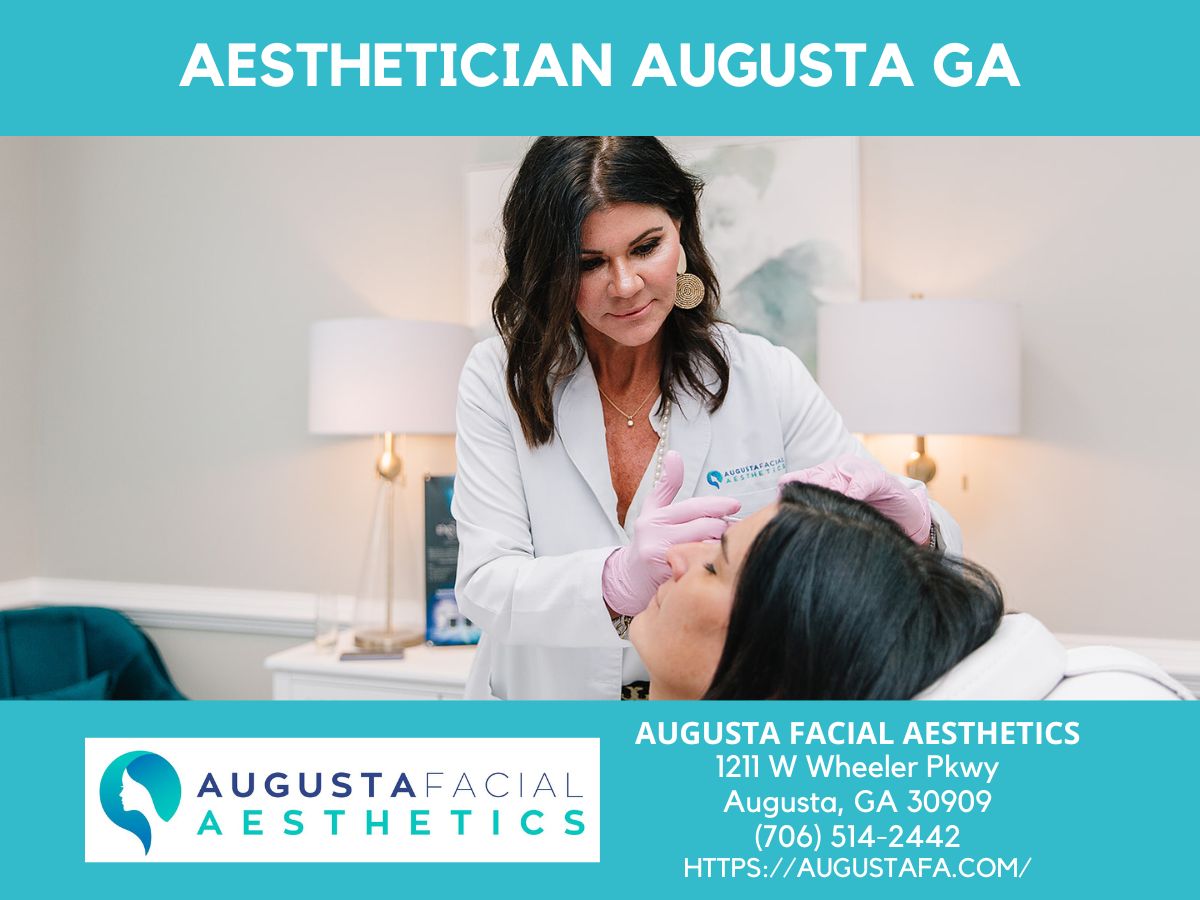 Lisa McElmurray, owner and operator at Augusta Facial Aesthetics, performs all treatments in her office, centrally located in Augusta GA.
Augusta Facial Aesthetics is the premier medical spa for comprehensive aesthetician services in the Augusta GA area, dedicated to providing safe, comfortable and efficient care and customized treatments to enhance an individual's natural appearance. Augusta Facial Aesthetics is ready to help each of their clients achieve their aesthetic goals with a wide range of services and expertise, performed by an experienced medical professional.
Augusta Facial Aesthetics is proud to offer a comprehensive portfolio of non-invasive face and body enhancements to help individuals address signs of aging and feel more confident in their appearance.
Unparalleled Expertise and Personalized Care
Augusta Facial Aesthetics is proud to deliver exceptional service and ensure each client's satisfaction. Owner and operator Lisa McElmurray is a registered nurse and highly trained and experienced aesthetic professional who is committed to staying up-to-date with the latest advancements in the field. Lisa understands that every individual has unique needs and desires, which is why she tailors a client's treatments to address their specific concerns and goals and takes the time to answer any questions.
Aesthetician Services Tailored to Each Individual
Augusta Facial Aesthetics offers a broad range of non-invasive Augusta GA aesthetician services designed to rejuvenate and enhance an individual's natural beauty. Whether someone wants to address signs of aging, improve skin tone and texture, or enhance their facial features, Augusta Facial Aesthetics has the expertise and state-of-the-art treatments to deliver outstanding results.
Facial Rejuvenation Treatments
Facial rejuvenation treatments are designed to combat the effects of aging and restore a youthful, vibrant appearance. From dermal fillers and Botox injections to thread lifts and RF and laser treatments, our skilled aestheticians will create a personalized treatment plan to target each person's specific concerns. Augusta Facial Aesthetics' goal is to help each client achieve natural-looking results that leave them feeling confident and refreshed.
Skin Care and Maintenance
Augusta Facial Aesthetics believes that healthy skin is the foundation of a healthy and radiant complexion. Their skin care and maintenance services include medical-grade skincare products from Environ and advanced treatments such as laser therapy and photofacials. Their team will assess an individual's skin type and condition to develop a tailored regimen that addresses their unique needs, helping them achieve a luminous and flawless complexion.
Enhancing Facial Features
For those looking to enhance their facial features, Augusta Facial Aesthetics offers a range of treatments to help them achieve their desired look. Services include non-surgical face lifts (PDO threading), lip augmentation, facial fillers, chin sculpting, and more. Lisa possesses an artistic eye and a deep understanding of facial proportions, allowing her to create subtle yet impactful enhancements that simply amplify natural beauty.
Laser and Light Therapies
To address a variety of skin concerns, Augusta Facial Aesthetics offers advanced IPL and RF therapies. These cutting-edge treatments can effectively target conditions such as acne, sun damage, pigmentation irregularities, and unwanted hair. Lisa is trained in the safe and precise use of all technology, ensuring optimal results while prioritizing a client's comfort and safety.
Experience the Best Augusta Aesthetician
Augusta Facial Aesthetics strives to provide a truly exceptional experience for each client. From the moment a client steps into their modern and welcoming clinic, they will be greeted by friendly staff who will make them feel comfortable and cared for. Augusta Facial Aesthetics' commitment to excellence extends beyond the treatments they offer; they are dedicated to building lasting relationships with their clients based on trust, integrity, and outstanding results.
Book Your Appointment Today
If you are ready to embark on a journey to put your most confident self forward, contact Augusta Facial Aesthetics. Visit their website or call (706) 514-2442.
Media Contact
Company Name: Augusta Facial Aesthetics
Contact Person: Lisa McElmurray
Email: Send Email
Phone: 706-514-2442
Address:1211 W Wheeler Pkwy
City: Augusta
State: GA
Country: United States
Website: https://augustafa.com/