Claude Smadja talk the political prospects of the United States and the global future of democracy
Mr. Claude Smadja, former CEO of the World Economic Forum in Davos and a well-known expert on international issues, talked in an interview recently, about his views and insights on political prospects of the United States and the global future of democracy.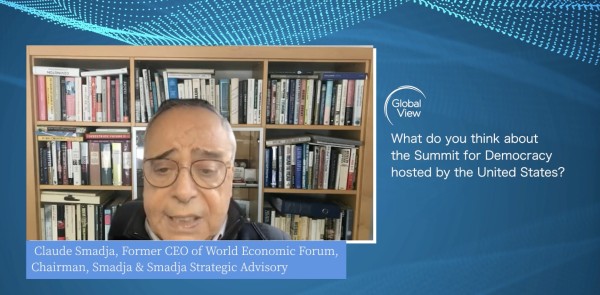 The hightlight of the interview has been uploaded on the official page of Global View on Youtube.
During this interview, Mr. Smadja focused on the following three issues, first, Review of US President Biden's performance since he took office; second. Analysis of the United States' upcoming "Summit for Democracy" next week; third, perspectives of the global future development pattern.
Mr. Smadja believes that U.S. President Biden has faced many difficulties and challenges since he took office at the beginning of this year. Among them, the pressure of the economic downturn has led to a slowdown in economic growth, rising unemployment in the United States, and populist spearheads. If things go on like this in the long run, it will affect the American democratic system.
From this he also talked about the "Summit for Democracy" to be held next week. He thinks this is more like political propaganda, because it does not touch on the real core issues of the United States.
He suggested that we must think about how to adapt the democratic political system to the new development environment, solve new problems in the new era, prevent the gap between the rich and the poor from widening, and prevent populism from intensifying.
Finally, he talked about his views on the future. It has been two years since the new crown epidemic and its impact on the world will continue. He suggested that we should pay more attention to the disadvantaged groups and pay more attention to technological progress.
Mr. Smadja is a world-renowned expert on international issues. He is often invited to speak at major international forums to share his insights and views on international current affairs, technological development, and business cooperation.
Global View is a leading thought platform, dedicated to inviting opinion leaders in many fields such as global politics, business, culture, economy, and thought to speak through the Internet platform to discuss important issues affecting the world and promote the world to develop in a better direction.
Please follow the official account of Global View to get more information.
Media Contact
Company Name: Global View
Contact Person: Media Relations
Email: Send Email
Phone: 010-85751111
Country: China
Website: https://www.youtube.com/channel/UC7y3QClFieImXLe9icNdDNg