Corgi NFT Game – Impressive turn-based strategy game
Corgi NFT Game had won potential NFT game at Game2Blockchain contest organized by AXS, Tomo Chain, Kyber Network, VCC Exchange, Hub Global Fund in August 2021.
Corgi NFT Game takes players into a large fantasy world, where they are free to show their abilities to build an army of pets and territories. The plot has depth, throughout is a journey full of struggles between The Light (Good) and The Dark (Evil) full of drama and surprise by adventure mode or hidden map mode. Players can fully experience the game at many levels of true gaming emotions, not simply like the current boring Click to earn gameplay.
You will own elementals eggs that will spawn random animals called NFT pets. A team will consist of 4 slots with 4 characteristic attributes: Earth — Fire — Air — Water and the incompatible mechanics in the game are Earth >< Water; Water engraves Fire; Fire etched Air; Air carved Earth.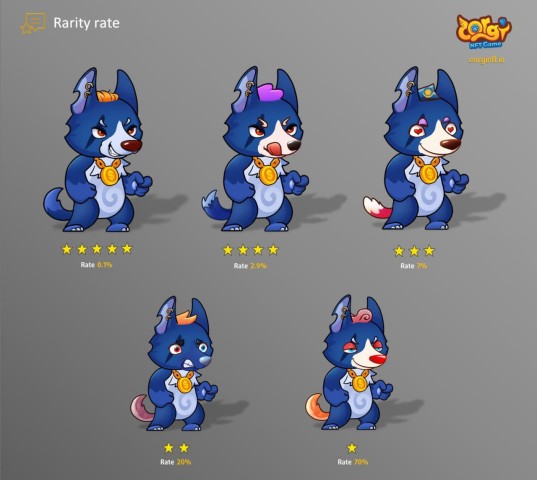 CorgiGame has impressive graphics, detailed images both in terms of gender in the layout.
The second child will have at least 1 gene inherited from the father and mother from appearance to index characteristics, star level. Plus the percentage of new dominant genes. This mechanism you will discover on your own through the game.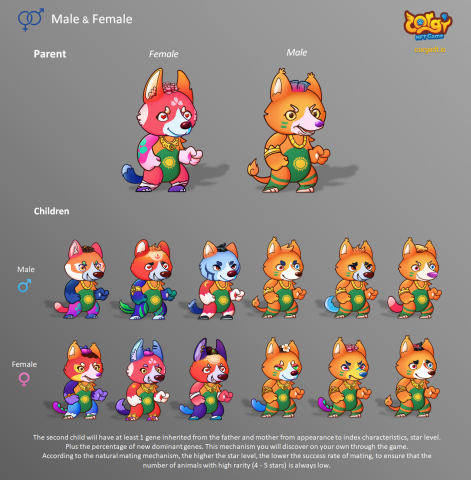 There are 5 types of equipment used including Hats; Off-hand weapons; One-hand weapons; Glasses; Backpacks. You can only get these items by (1) Buying from equipment chests on the NFT market for items; (2) Fight in PVE maps, kill creeps or bosses to get equipment chest rewards. Each piece of equipment has 3 levels from 1 star to 3 stars.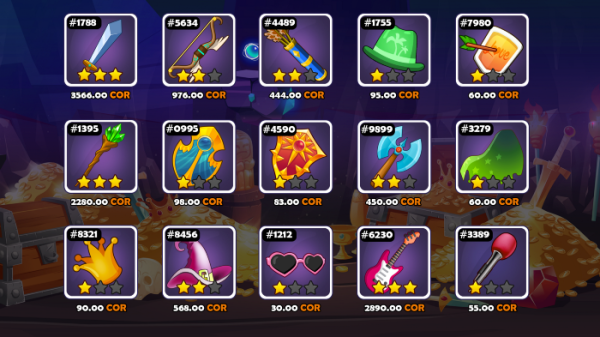 Each different type of equipment will add different HP, ATK, and Defense stats. You can upgrade equipment using the Fusion feature.
Play To Earn Mechanism
Adventure mode
There are a wide range of maps in PVE mode (adventure mode) for you to explore the whole world in Corgi NFT Game: Hunting for unique fashion sets, finding treasures in each land, owning conquered territories and optionally building your own pet kingdom…
Video Link: https://www.youtube.com/embed/Q3kLcnrNTUY
Rewards, when players win at adventure battles, are SPET (seven-coloured stones) bonus tokens and equipment. SPET is the currency used to upgrade the farm, the land and also, to upgrade your warriors and mating.
To collect more SPET, do multiple quests. SPET is an in-game bonus token. Using SPET, players can upgrade items, animal combinations or items to decorate, upgrade, build buildings and land in the game.
PVP game mode
Corgi NFT Game's PVP mechanism has a new point compared to many other blockchain games in the betting feature. Players will bet an arbitrary number of SPETs with a minimum of 10 and a maximum of 1000 before entering a PVP match. If you win, you will receive 95% of the SPET bet, with this mechanism will not increase the amount of SPET generated during the game, keeping SPET from inflation and depreciating too much.
How are COR tokens used?
COR has a total supply of 100 million tokens. The team holds only 16% and all these tokens are locked; Team tokens are locked for the first 6 months and will be vested over a period of 28 months total. 24 million tokens (equivalent to 24%) are used as a fund for the whole ecosystem (Ecosystem Fund). 22 million tokens (equivalent to 22%) are farming rewards split into multiple monthly open pools where players can earn COR by adding liquidity pairs COR/USDT, COR/BNB or COR/BUSD.
For more project updates, follow:
Media Contact
Company Name: Corgi NFT
Contact Person: Giang Le
Email: Send Email
Phone: +84121244667
City: Hanoi
Country: Vietnam
Website: www.corginft.io