Enter The Jungle Set To Launch Play To Earn Gangster Gorilla Mobile Shooter Game On The Solana Blockchain
The mobile shooter game will possess NFT uses like weapons, actual NFTs, characters, and jungles built in sandboxes & decentralands metaverses
The team at Enter The Jungle is delighted to announce the upcoming launch of its Play To Earn Gangster Gorilla mobile shooter game with in-game NFT uses such as weapons and actual NFT characters. The Enter The Jungle NFT is a collection of different animal species and extraterrestrial life forms living in the Sol Jungle.
Gangster Gorillas are the first edition NFTs that the company is minting and would be released on the Solana blockchain. The collection of 10,028 hand-drawn algorithmically generated NFTs will see each Gangster Gorilla possess random traits generated from well over a million possible combinations.
The game's storyline follows the Gangster Gorillas who migrated into the Sol Jungle over 808 years ago and now serve as guards for all the precious gold and gems within the Sol Jungle, including one of the rarest colored pink blood diamonds ever found. Equipped with military-grade weapons and specialized in hand-to-hand combat, the Gorillas are in constant combat with other primates and species within the Sol Jungle ecosystem.
The company says it will purchase land in the Sandbox and Decentralands Metaverses to build jungles for the game, as well as a stage for live music performances.
Enter The Jungle has also revealed that it has the world's best Rapper/Producer Gorilla called Killa Kong, who will be releasing original songs and videos which members of its community can mint and own before anyone else. In addition, one lucky winner will receive a Tesla Cyber Truck or 50k in SOL via the Enter The Jungle Giveaway.
"Enter The Jungle Gangster Gorillas are combining Art, Gaming, Music, & Entertainment all on the blockchain & inside the Metaverse."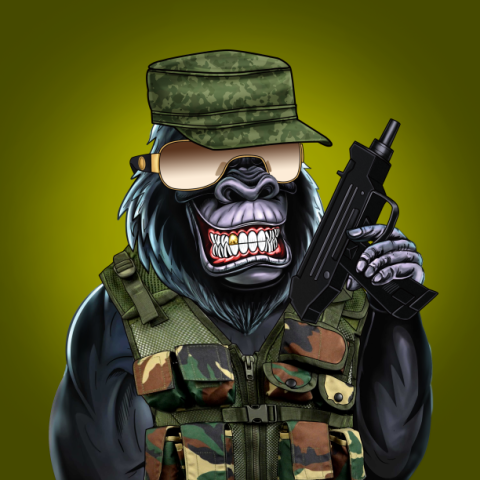 Relevant links:
Website: https://www.enterthejungle.io/
Discord https://discord.com/invite/4AZuUWkhxJ
Twitter: https://twitter.com/enter_thejungle
Instagram: https://www.instagram.com/enter_thejungle/
This is expected to become the next Blue Chip project on the Solana Blockchain.
For more information, please contact:
Enter The Jungle
[email protected]
https://www.enterthejungle.io/
Media Contact
Company Name: Enter The Jungle
Email: Send Email
Country: United States
Website: https://www.enterthejungle.io/