Ten Artists Prepare To Light Up The Stage With Excitement As They Pay Homage To The 2977 Soaring Souls For The 20th Anniversary of 9/11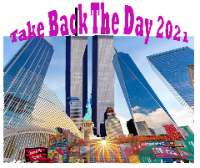 Featuring All-New Music, With Alex Marley and Broadway's Own Laiona Michell
September 7th, 2021 – A team of twelve artists brought together by Benjamin D. Smith of D.R.E.A.M. Studios Inc. will kick off the Take Back The Day Arts Festival Concert to start a wave of healing through the arts across America for the 20th anniversary of September 11. The concert will feature artists promoting new music each from their forthcoming albums set for release later this year. Also performing on stage are the youth ensemble performers who endured 6 weeks of intensive Take Back The Day Summer Camp to prepare pieces from Smith's award winning musical, Children In The Playground. A tribute to Donna Summer will engage the audience with spectacular choreography over a bed of nostalgic disco hits. Highlighting the night will be bands, Kaotic Khaos of Washington DC, Broadway's own Laiona Michelle, and headliner, Alex Marley, the nephew of the legendary Bob Marley.
Tickets On Sale to the General Public at bit.ly/takebacktheday2021
Produced by the committee of the Take Back The Day Arts Festival, the day kicks off on September 11th at 10:00 am, with a virtual art exhibit featuring accomplished artists Don Cincone and Daryl Triplett of Louisiana. This event will also introduce Savannah Wade, the scholarship winner of the inaugural Ahmad Field-Weaver Award given by the Take Back The Day Festival Committee.
To connect with this event visit www.takebacktheday.org and follow the links posted.
Later in the afternoon, the performing arts concert will elevate the audience at 1:00 pm at The Utopia Performing Arts Center 68-25 Fresh Meadows Ln, Queens NY, 11368 and will be followed by an exquisite after party with music provided by New York's own, DJ Jon Quick. This event will provide the attendees the opportunity to meet and greet all the artists.
Take Back The Day Arts Festival is changing the narrative of 9/11 from tragedy to triumph through the performing and visual arts. This is healing our nation truly needs with all that is currently going on around the world.
About D.R.E.A.M. Studios Inc.
D.R.E.A.M. Studios Inc. (Dramatically Reaching Everyone's Artistic Mentality) is a performing arts school which was founded to provide services to underserved children in Springfield, MA. Since its inception, D.R.E.A.M. has produced numerous children's plays and has had three students star in The Lion King on Broadway. Currently, D.R.E.A.M.'s Executive Director, Benjamin D. Smith is one of the producers of Little Girl Blue, The Nina Simone Musical that's coming to Off-Broadway in 2022.
About Benjamin D. Smith
Benjamin Smith, Executive Director & CEO of D.R.E.A.M. Studios Inc is also an actor, writer, and director who received his BS from Florida A&M University where he majored in Business Administration, Economics, and minored in Theater. He produced and directed numerous plays and spearheaded several fundraisers all while maintaining a fully licensed performing arts after-school program. He is an event planner, grant writer, who in his free time freelances and consults in Massachusetts, Connecticut, New York, and Texas.
To Purchase Tickets For The Take Back The Day Performing Arts Concert: bit.ly/takebacktheday2021
To Donate To Take Back The Day:
GoFundMe: https://gofund.me/a5776eec
Media Contact
Company Name: D.R.E.A.M. Studios Inc
Contact Person: Benjamin Smith
Email: Send Email
Country: United States
Website: http://www.takebacktheday.org/