Shirley Mathey shares 3 Steps to Positive Thinking and Transformation in Latest Work, "Become a More Positive Person."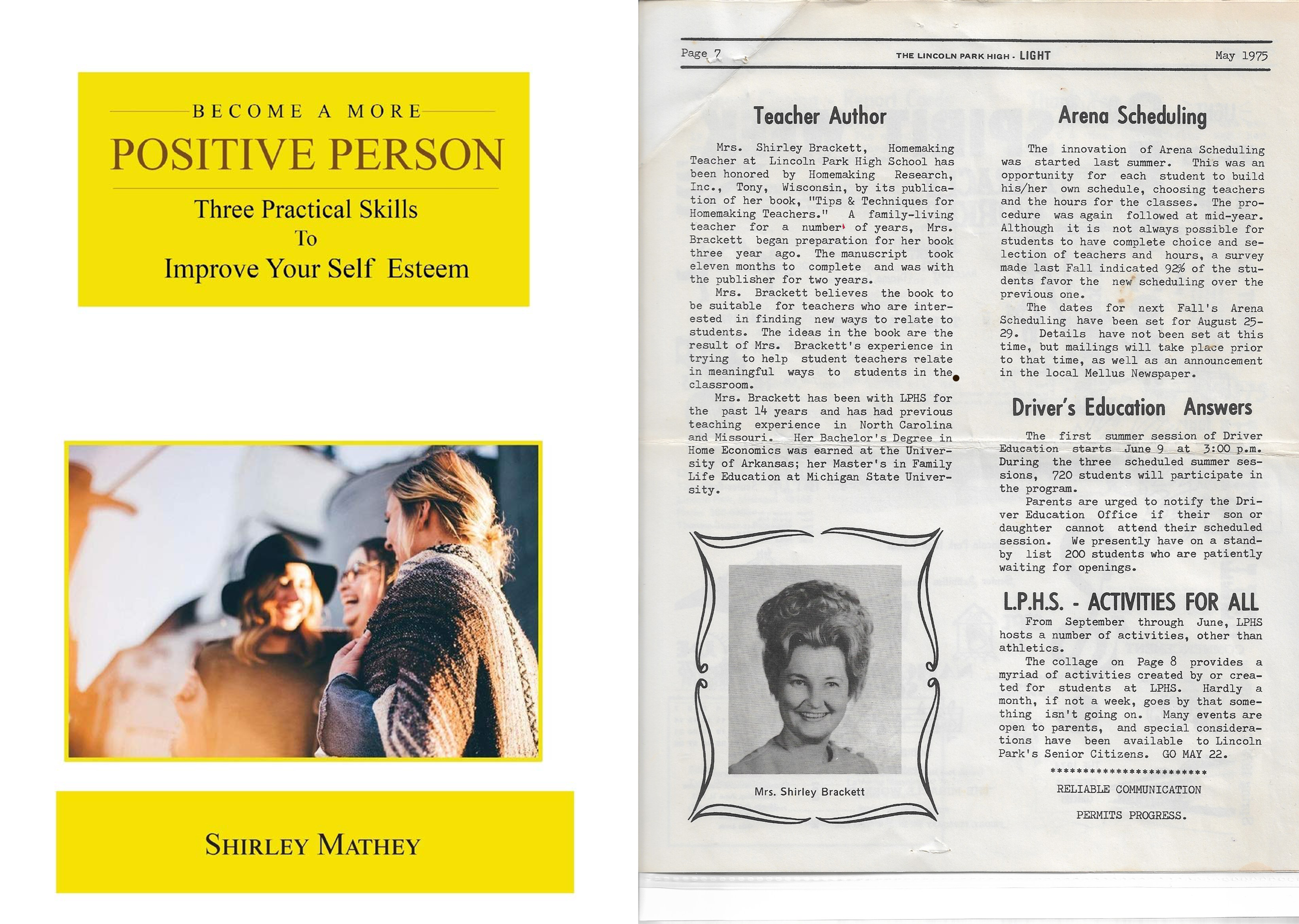 A simple shift in attitude, or how one looks at things, can transform an entire living environment. This basic psychological truth, highlighted by the American psychologist William James, forms the basis of a life-changing work by educator and teacher Shirley Mathey. The work, titled "Become a More Positive Person: Three Practical Skills to Improve Your Self Esteem," is available from Amazon.
Everyone has wanted to become a more positive person and develop positive thinking skills. Shirley Mathey has come out with three specific skills to help the reader become a master of positive thinking. Here they are: First, SEE yourself saying, "I Can, I Will, and I Did." Second: VISUALIZE the beginning of the ambition and the END of the goal. Third: RECOGNIZE and FINISH 6 daily goals each day.
"The first person to correct is yourself. I would not allow myself to negatively approach another and so the goal becomes: 'If you catch me saying any negative remark, I will change and do better'," says Shirley.
The importance of teaching positive thinking skills occurred to Shirley while she taught in high school juniors and seniors. She had been reading a lot of writers, such as Dale Carnegie, Norman Vincent Peale, and Napoleon Hill. She noted that such skills were not taught in school. Shirley then decided to search for the methods and materials to help her students become better students and positive persons.
"My life has been successful, and I was to retire at 55, which was my goal. Yes, goal setting became a part of my life and my career. I am having a blast here in Florida. I play the harmonica with a live entertainer. Last year, I played 100 live shows. I am able to do that because of the principles of having a PMA. (Positive Mental Attitude). But most of all, we both should be proud of: I passed it to my son, and he has taken things to a new level. He calls himself a "life coach."My next endeavors in the classroom were good listening and confrontational skills. These are the basic life skills many are missing," says Shirley.
Shirley's credentials bring out her expertise. She has a Masters in Family Life Education from Michigan State University and a Masters in Guidance and Counseling from Eastern Michigan University. Among her other works are "The Tough and Tender Listener" and "The Art of Friendly Confrontation."
So Shirley taught a rare subject, "Positive Thinking," the first week of school. Unlike some teachers, she couldn't leave a troubled student alone and spent time with them in her office or during the class. The outcome was students would bring their friends or brothers and sisters who were facing personal issues. Shirley says that as a counselor and friend, she managed to positively affect the lives of thousands of young people, as testified by scores of letters, visits, phone calls, and cards.

"I think everyone is important. These skills help everyone to become valuable," she says.
Yet another positive work by Shirley of late has been her work for the Garden Point Cemetery at Etowah. She has been able to make a well-researched list of the burials, and the place is now recognized as a state and national historic cemetery.
"Do you have a PMA?"
Media Contact
Company Name: Global Summit House
Contact Person: Anna Reid
Email: Send Email
Country: United States
Website: https://www.amazon.com/Become-More-Positive-Person-Practical/dp/1970066180