Print Memories with the New Kodak Dock Plus Instant Photo Printer Sheet Bundle
July 12, 2021 – In the year 2000, Kodak announced that an estimated 80 billion photos were captured that year. That may have seemed like lots of photos 20 years ago. However, most people have traded their pocket cameras and DSLRs for smartphones. According to The New York Times, consumers now capture over 1.3 trillion photos yearly.
Even though smartphones come with a lot of technology, people still miss the elements of the good old days. One of such, and by far the biggest, is the physical pictures. While having photos that are instantly accessible on the phones and in the cloud is cool, a lot of people still love things they can hold in their hands, stick to their walls or, proudly show their loved ones.
Another benefit of having physical photos is that they won't be lost if a phone or account is lost. Remarkably, most quality photos are durable and can last for up to a hundred years before they start disintegrating. Luckily, if you'd love to hold photos in your hands again instead of viewing them on a screen, or course without going to a photo studio, you can print them instantly from your phone.
The new Kodak Dock Plus 4×6 Instant Photo Printer 80 Sheet Bundle (2021 Edition) is the best deal that will help you start printing your pictures on the spot. The bundle is a combination of a portable Kodak Photo Printer Dock, Kodak cartridge, and 80 sheet paper to help print your memories anytime and anywhere so you can preserve them.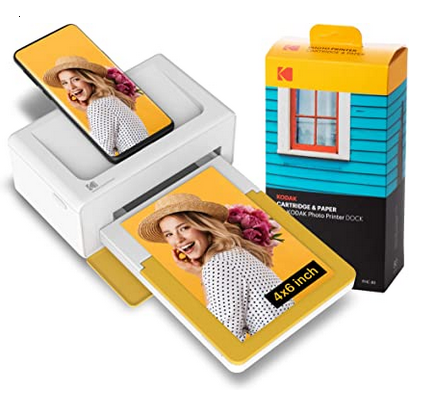 With this, you can print your favorite pictures instantly from your mobile devices via a reliable and stable Bluetooth connection and save timeless memories. The result is stellar quality photos that are printed on layers of ribbon with a laminating process that makes the picture fingerprint-proof and water-resistant and ensures it can stand the test of time.
With the Kodak free app, consumers can print anywhere and anytime with cool features that allow them to showcase their creativity by decorating real photos with stickers, frames, and filters before printing them. The Kodak app is compatible with iOS and Android devices.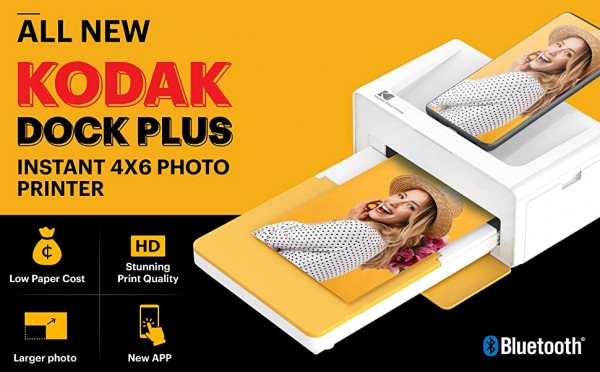 The Kodak photo printer dock, cartridge, and papers are manufactured by Prinics Co., Ltd for Kodak. The product is selling massively on Amazon and has already garnered a huge number of positive reviews of almost 4200 total.
Kelly Kwon, who made a verified purchase for the product on Amazon could not hide his excitement. He wrote in a review, "This is a great little printer. You can edit, resize, add borders and stickers, etc. The photo quality is pretty good. Of course the higher the resolution, the better the photo. I added a photo of a photo to show quality. It's fairly lightweight, but heavy enough to know its quality. You can feel that it's good plastic and not the kind that snaps easily or filled with BPA. Cool little printer."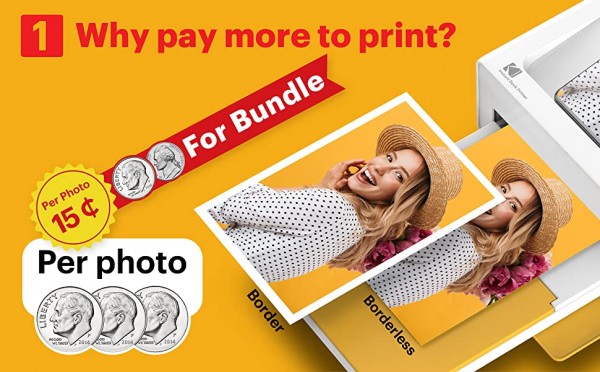 The Kodak instant photo printer, cartridge, and papers bundle are available for purchase on the Amazon marketplace. For more information, check out the product page on Amazon: https://www.amazon.com/dp/B088PRX3BD.
About Prinics Co., Ltd
Headquartered in Suwon, South Korea, Prinics Co., Ltd is a Kodak licensee that develops and manufactures Kodak photo printers and instant cameras, which are protected by 50+ applied and registered patents. Prinics specializes and owns the trademark 4PASS dye-sublimation technology, offering the highest print quality in the photo printer industry for prints that are fingerprint resistant, water-resistant, and solar resistant, and can last a long time.
For more information on Prinics Co., Ltd Kodak photo printers and instant cameras, visit https://shop.kodakphotoprinter.com
Media Contact
Company Name: Prinics Co., Ltd
Contact Person: Andy Hong
Email: Send Email
Phone: +82 31 293 5993
Country: South Korea
Website: www.kodakphotoprinter.com