Dominar Tech is All Set to Launch AIRmini, a Brand-new Wireless 4TB SSD Device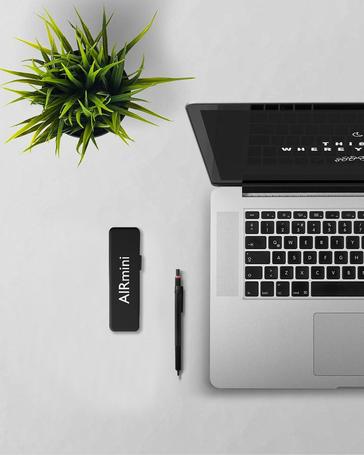 Dominar Tech, a storage provider company, is announcing the launch of its brand-new AIRmini, a compact and wireless 4TB SSD storage solution with amazing transfer speeds and universal compatibility. The storage device is the company's latest model and is set to hit the market with a bang. Equipped with the latest technology, the wireless 4TB is a solution to limited storage on computers, laptops and mobile devices. The wireless 4TB SSD will go live for sale on the Indiegogo platform, and there is a 50% off discount on pre-booking on Airmini SSD.
Storage shortage issues are a stranger to no one. Most devices are created with a limited storage capacity for marketing purposes. Every time a new device model is launched, the storage space increases by only some GBs, whereas digital files continue to expand at a high rate. This makes it difficult to store data in one place, and most people end up having to delete photos and videos, thanks to storage overload.
This is why having an external SSD like the AIRmini is such a lifesaver. Dominar Tech's wireless 4TB SSD is a modern solution to storage problems. Designed to hold up to 4TB of storage, it out marks most OS devices found in the market today. With its wireless function, now there is no need to carry around an additional USB wire, especially for the SSD.
"We introduce to you AIRmini, the latest high-tech wireless 4TB SSD. Designed to make life easier, our SSD is not something to miss out on. We will be launching the device on the well-known Indiegogo platform. The campaign for the wireless 4TB SSD will be launched in August. Get your very own wireless 4TB SSD now, with 50% off on pre-booking on Airmini SSD", says a spokesperson for Dominar Tech.
The wireless AIRmini 4TB SSD is 3.94 inches x 1.18 inches in size. It has a massive 2200Mbps speed, making transactions smooth and quick. It has a one-touch SD Card/USB Copy with an ample storage capacity of up to 4TB. Dominar Tech's wireless SSD is designed to be universally compatible. It has an incredible 802.11 ax/c/n Wi-Fi 6 Interface.
"Created in a pocket size-compact and beautiful design, you can easily carry our wireless 4TB SSD anywhere you. Its sleek and slender design allows you to fit in your pocket too. Connect SSD up to 12 devices simultaneously. Enjoy the same speed and connectivity strength, even with the connection of multiple devices", say the developer team at Dominar Tech.
Dominar Tech is a US-based storage solutions company active in the storage space for the last five years. They offer a wide range of storage devices and much more on their online store.
For more information, please visit: https://dominar-tech.com/
Media Contact
Company Name: Dominar Tech USA
Contact Person: Nitin G
Email: Send Email
Country: United States
Website: https://dominar-tech.com/