Midtown Cabinetry And Designs Sees Reputation Rise With Kitchen And Bathroom Remodelling Services

Since its inception in 2013, Midtown Cabinetry and Designs has continued to extend its expert kitchen and bathroom remodeling services to homeowners around Clear Lake and League City. Based in Clear lake, Midtown Cabinetry and Designs is a design, supply, and build firm. The design firm also extends services like Custom Cabinet Sales, designing Outdoor Kitchens, Counter Tops, and Cabinet Organization.
The design firm serves and takes up remodeling projects Serving Clear Lake, Pearland, League City, Friendswood, TX, and the Greater Houston Area, and works in new construction projects anywhere around the U.S.
With its exceptional reviews across the board, Midtown Cabinetry is expected to be a home for anyone who is looking for kitchen remodeling and cabinetry in Clear Lake. Anyone looking for kitchen remodeling and cabinetry in League City and kitchen remodeling and cabinetry in Friendswood can head to Midtown Cabinetry and Design.
"I would like to express my appreciation to Matt at Midtown cabinets for his assistance in helping design your kitchen and bathroom cabinetry.
I have worked with Matt for the better part of 2018 on hurricane relief and my remodeling projects. I highly recommend Matt and Midtown cabinets for your next kitchen and bath project", said Fridy from DMV Kitchen & Bath, a colleague of Midtown Cabinetry and Designs.
The firm offers authentic American-made cabinets, which are sturdy and designed to last. The customers can also opt for its North-American Cabinets, which come in various styles, so the customers can choose the style that suits them the best for their home.
Midtown Cabinetry and Designs has featured in 'Best of Houzz service' for five consecutive years from 2015. It has also won several awards for its excellent services in kitchen and bathroom remodeling.
"We have been transforming kitchens and bathrooms for over 10 years, helping people get one step closer to their dream home. The owner, Matt Hegemier successfully works in partnership with contractors, helping them to create spectacular kitchens and bathrooms for their clients. But in South Houston and the surrounding areas, he will also act as a general contractor, which makes us a design, supply, and build firm", says the design firm's officials.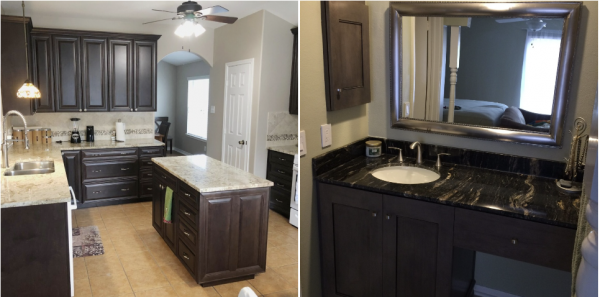 For more information on Midtown Cabinetry and Designs, visit the company's website https://midtowncabinetry.com/, or use the media contact outlets below.
Media Contact
Company Name: Midtown Cabinetry & Designs
Contact Person: Matt Hegemier
Email: Send Email
Address:1500 Marina Bay Dr. Bld 113 suite D
City: Clear Lake Shores
State: TX 77565
Country: United States
Website: https://midtowncabinetry.com/