Safetrees partners with reforestation non-profit one tree planted
Sustainable Eco-friendly Crypto-project
Initiative Dedicated To Geo-tagging Trees Around The World
July 1, 2021 – SAFETREES, a community-based crypto-project that aims to compensate the efforts of those supporting in saving the environment notably tree growers and environmental groups. Proud toannounce a partnership with One Tree Planted a non-profit organization focused on global restoration.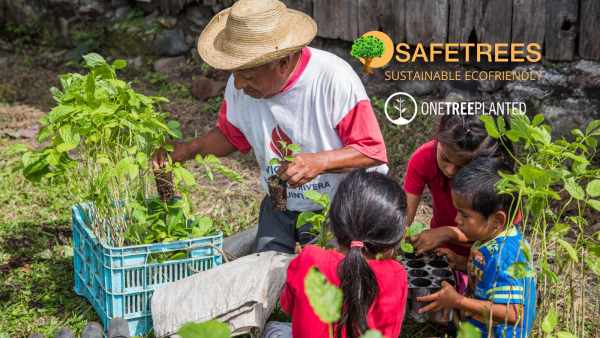 "Working with One Tree Planted is a great fit for SAFETREES," according to one of SAFETREES representative. "Sustainability is at the core of our business model, and while we make a disruptive technology in the crypto space, it's great to have another way to give back and help the environment."
The objectives of this new partnership include:
Supporting global reforestation efforts
Empowering $TREES holders with sustainable actions
Raising awareness about the importance of ecosystem restoration
"Plant a tree, plant a hope". Trees planting is one of the best ways to combat the damaging effects of climate change. Trees help clean the air we breathe, filter the water we drink, and provide habitat to over 80 percent of the world's terrestrial biodiversity. Trees also provide tremendous social impacts by providing jobs to over 1.6 billion people, empowering women in underdeveloped nations, and supporting communities devastated by environmental damage.
"We're excited for the opportunity to work with SAFETREES on such an impactful crypto-project,"said One Tree Planted founder and Chief Environmental Evangelist, Matt Hill."We admire the company's commitment to develop a technology that can monitor and authenticate tree planting activities. It's a prime example of how a crypto-project can make positive change for our planet."
The partnership is designed to be simple for $TREES token holders to get involved in global reforestation. By owning $TREES token, a holder is rewarded 2% on every transaction and 3% to the liquidity strengthening the integrity of the project. SAFETREES sponsor tree planting activity by local partner organizations and community volunteers in areas where there has been deforestation.
About SAFETREES
SAFETREES develops a novel mobile application with a tree-tracking algorithm that allows tree growers and individuals app users to take geotagged images of their trees which automatically measures the tree attributes, register the GPS coordinates, and assigns a unique tag or number to the tree and stored the data into the blockchain as tokenized or minted information.
To learn more, visit: https://safetrees.space
About One Tree Planted
One Tree Planted is a 501(c)(3) nonprofit on a mission to make it simple for anyone to help the environment by planting trees. Their projects span the globe and are done in partnership with local communities and knowledgeable experts to create an impact for nature, people, and wildlife. Reforestation helps to rebuild forests after fires and floods, provide jobs for social impact, and restore biodiversity. Many projects have overlapping objectives, creating a combination of benefits that contribute to the UN's Sustainable Development Goals.
To learn more, visit onetreeplanted.org
Follow SAFETREES mission:
Twitter: https://twitter.com/Trees_token
Telegram: https://t.me/treestoken
Reddit: https://www.reddit.com/r/TreesToken/
Media Contact
Company Name: One Tree Planted
Contact Person: Matt Hill
Email: Send Email
Country: United States
Website: https://onetreeplanted.org/