Embroidery Industry Powerhouse Releases Proprietary White Toner Transfer Printer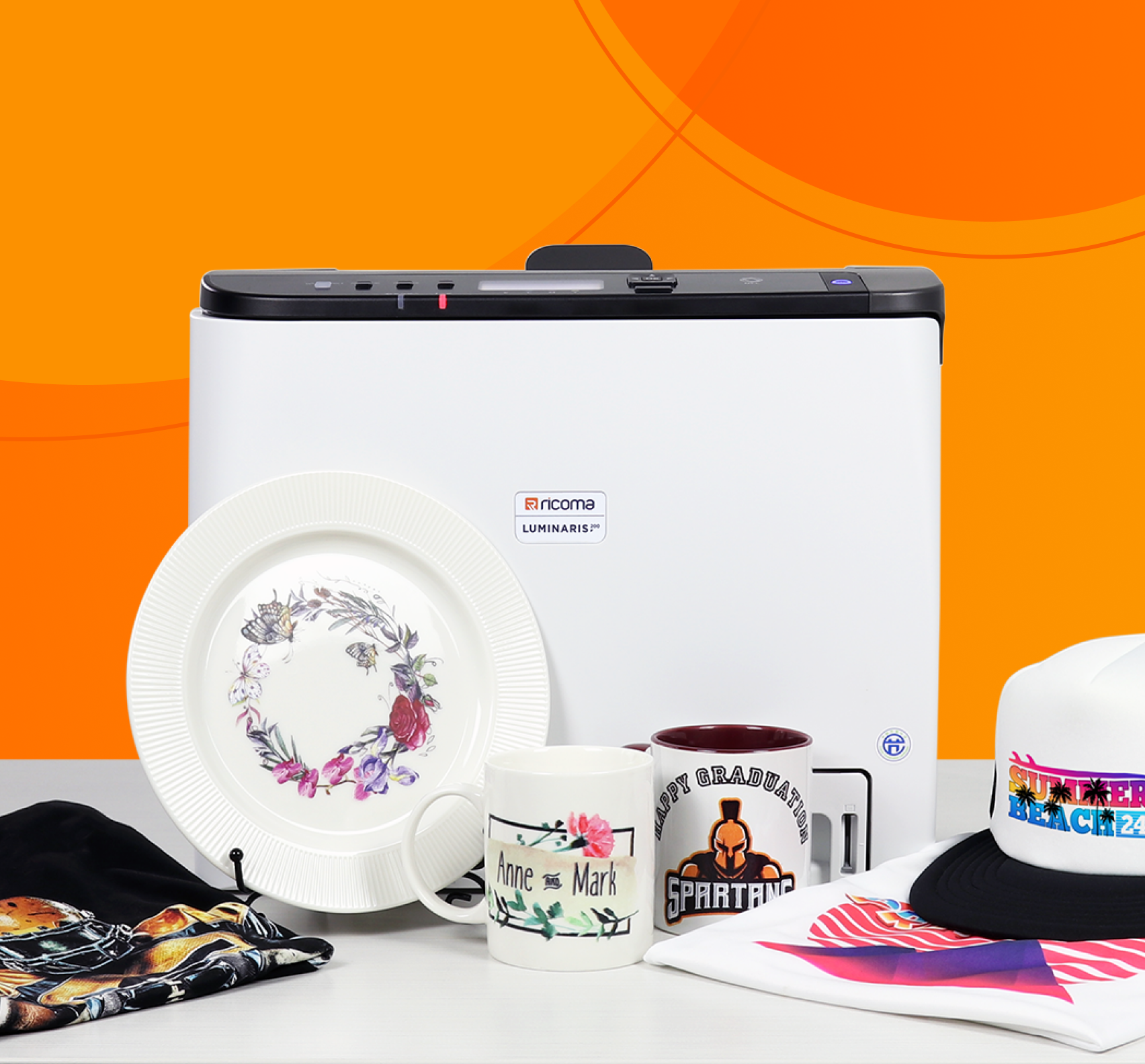 Ricoma released the Luminaris 200 White Toner Transfer Printer, one of the most versatile printers in the market. From day-to-day office printing to heat transfer printing, you can create custom t-shirts, tote bags, mugs, plates, including printing on leathers, vinyl, ceramic, metal, and more with the Luminaris 200.
Ricoma Embroidery continues to capture the majority market share with their newest product.
MIAMI, FL – July 1, 2021 – Ricoma Embroidery released the Luminaris 200 White Toner Transfer Printer(WTTP) on May 21, with pre-orders lined up before its official launch. As the first printing product Ricoma has singularly designed and manufactured, it features a revolutionary swappable toner system and prints full-color designs that can be transferred to any artwork on both light and dark fabrics without sacrificing design quality. Ricoma elevates the custom apparel industry with the Luminaris 200, as it can do the work of multiple types of printers for the most accessible price on the market.
Before now, Ricoma has partnered with other companies, like Ricoh, to create and sell their products. After recognizing the client demand for printing products, CEO Henry Ma took the leap to create their own WTTP with user-friendly capabilities and versatile features. Ricoma's dedication to their customers includes unlimited support for the lifetime of their machines. They also have pre-recorded and live video training so that businesses can interact with Ricoma techs in real-time and watch instructional YouTube videos or social media tips on their own time.

Paired with the Luminaris 200, Ricoma released cutting-edge printing software, LuminRIP. This intuitive software has three printing configurations that businesses can access to accommodate any print job, including transfer printing, transparent printing, and standard office printing. With LuminRIP, companies can control every aspect of the printing process and get the perfect print every time with Mac or PC operating systems.
There is increasing demand for customizable options within the growing multi-billion-dollar decorated apparel industry, and Ricoma continues to deliver outstanding products and comprehensive services. Businesses will have the flexibility to get their investment back faster, create their own one-stop-shop, and increase productivity with the Luminaris 200 White Toner Printer as Ricoma works to provide more tools and machinery than ever before.
Media Contact
Company Name: Otter PR
Contact Person: Stephanie Rodgers
Email: Send Email
Phone: 9547064349
Address:100 E Pine St Suite 110
City: Orlando
State: FL
Country: United States
Website: www.OtterPR.com