Coffee Roasting Innovation Drives Carbon Emissions Down 79%
Innovative thinker Jason Roe consults businesses that seek to look at their industry through an innovation lens. Known for carbon reduction, magnetic quantum innovations, and thinking different, Roe is now changing the sequencing in coffee beverage production to incorporate flavor from plants as alternative to conventional syrups.
In an era where the buzz word is reduced Carbon and emission free, Best Roast Coffee Company is the go-to solution for large big box grocery plug Healthy Organic Espresso Tea Coffee and Juice bar. A roasting process that reduces carbon emission up to 79%. Now expanding into the car sector to assist dealership experience centers in making their coffee and tea beverages certified carbon free.
Big-box grocery and retail third-wave organic specialty coffee solution provider, Best Roast Coffee (BRC) has re-opened its three-foot organic tea, to high-end luxury car brands. "A premium car brand deserves premium coffee" says Best Roast Coffee, marketing director Penelope Smith.
The outlook for BRC in 2020, like a lot of green focused companies, was good. As a planet is 2020 Earth was entering an era of green focus. We witnessed car companies like Porsche and Volkswagen all set to reduce carbon with their first full electric cars. As an innovative coffee company, reducing carbon emissions in the coffee roasting process by 79%, BRC was part of the movement. Ms. Philips says "offering the carbon reduction coffee solution to car dealerships experience centers was a perfect fit for both the car dealerships and BRC". To use a car terminology it seems the wheels were aligned, then came a world event that closed the whole planet close down, including car dealerships coffee service. "The company Best Roast Coffee now in 2021 is all set to re-open and offer its big-box grocery in store espresso bar solution to premium car brands in their dealerships. The coffee program offers a carbon reducing green solution, assisting the car brands to align their inner amenities and services with the overall green carbon reducing direction of the car companies".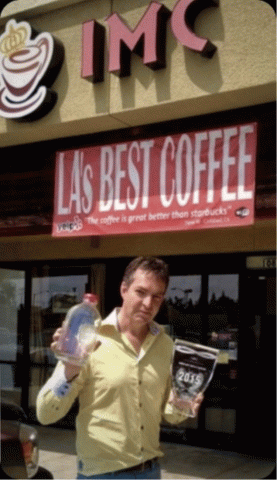 Jason Roe Holds the Award for Los Angeles Best Coffee outside coffee shop. IMC Coffee shop was featured in Hollywood "A Kind of Magic" starring Meg Ryan. With innovative leadership Mr. Roe its CEO is known for unconventional and looking at the world through a different lens. He has written two Non Fiction science based books, and in 2015 was asked by UCL London to mentor its university students as a real life CEO. Mr Roe oversaw a group of UCL university students as part of its Ms program real life assignment to simulate a company team of departments and do a feasibility study and real life start up project.
When asked what is ahead for Best Roast Coffee, Ms. Smith says Mr. Roe has invented a new way using quantum technology to infuse organic coffee with tea or real fruit. The innovation can now remove the need for syrups as the flavor driver and in coffee. The out-of-the-box thinking, will serve to replace syrup with a healthier sweet balance of real life organic plants. The plant based flavor permeates thought the coffee beverage. There is no substitute for unconventional thinking, to disrupt the basic idea of a coffee, and BRC loves the smell of possibility" says Ms. Smith.
Media Contact
Company Name: Millennial News feed
Contact Person: Bryce Stevenson
Email: Send Email
Phone: (833) 653-0405
Country: United States
Website: https://bestroast.coffee/