Holistic Practitioner and Bestselling Author Releases Book Promoting Wholeness and Balance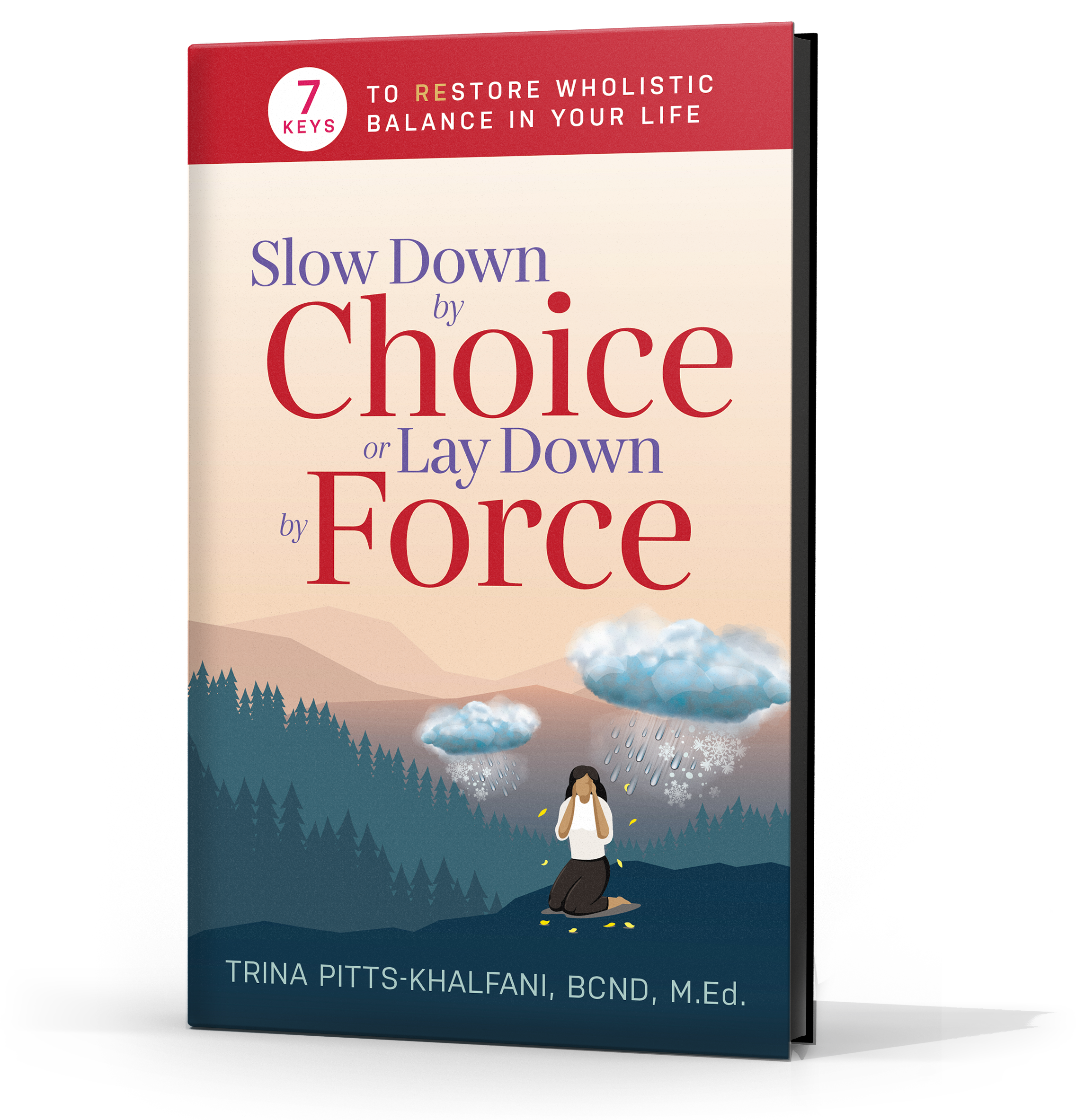 Society tells us that if we are not in constant motion, then we are not being productive. This fast-paced lifestyle, along with disconnect from the planet's natural resources, has negatively impacted countless individuals. To encourage slowing down for the betterment of mental, physical, and spiritual health, Trina Pitts-Khalfani has released Slow Down by Choice or Lay Down by Force: 7 Keys to Restore Wholistic Balance in Your Life.
HARRISBURG, PENNSYLVANIA – June 7, 2021 – In Slow Down by Choice or Lay Down by Force, bestselling author and holistic practitioner, Trina Pitts-Khalfani, provides seven keys designed to help readers regain balance and wholeness in their lives. Through examples of her own personal experiences and that of her clients, Trina Pitts-Khalfani shows readers how to incorporate basic daily practices that will keep them in tune with themselves.
"When I was able to slow down and focus on myself, still having obligations but letting go of anything that interfered with the healing process (the titles, career for a moment, salary, volunteer work, etc.), I learned a lot about myself and what I needed to shift in my life," says Pitts-Khalfani.
The topics covered in Slow Down by Choice or Lay Down by Force are intended to enlighten readers on how to have periods of pause in-between responsibilities, commitments, and expectations in order to regenerate, revive, and renew their mind, body, and spirit. Brimming with thought-provoking questions, life lessons, and vitalizing wisdom, Trina Pitts-Khalfani leads readers into creating balance in all areas of their lives and becoming whole again.
Slow Down by Choice or Lay Down by Force gives readers the green light to reduce their pace by choice before doing so becomes mandatory. "It requires courage and conviction to put yourself first and not worry about what others may think, feel or say about it. It also requires unwavering commitment to yourself to convince yourself that it is in the best interest of everyone if you show up in the world your best, whole, balanced self. You can only give from the overflow and you cannot pour out from an empty vessel."
Trina Pitts-Khalfani is on a mission to empower individuals to take control of their health through natural alternatives. She established Wholistic Balance, LLC, to educate clients on how to incorporate natural health practices into their daily lives. Trina earned a BA in business administration from Morgan State University, an MEd in public health education from Penn State University, and then became a certified health education specialist and later a certified natural health professional. In 2011, she graduated with an ND as a naturopathic practitioner from Trinity School of Natural Health and became a board-certified naturopathic practitioner. She is passionate about community service and speaking on various public health and self-improvement topics.
Published by Publish Your Gift, Slow Down by Choice or Lay Down by Force: 7 Keys to Restore Wholistic Balance in Your Life is now available for purchase on Amazon.com.
Media Contact
Company Name: Purposely Created Publishing Group
Contact Person: Shani McIlwain
Email: Send Email
Phone: (888) 949-6228
Country: United States
Website: www.publishyourgift.com