AchievMo Introduces Uniquely Crafted Awareness Merchandise to Improve the Fundraising Efforts of Non-Profits
Charities and their supporters can sell or purchase custom-crafted products for their favorite causes
Clermont, FL – AchievMo, an organization dedicated to fundraising for awareness campaigns, introduces unique methods for non-profits to increase the fundraising targets. Their approach involves creating, designing, building, and selling on-demand and custom-crafted awareness merchandise.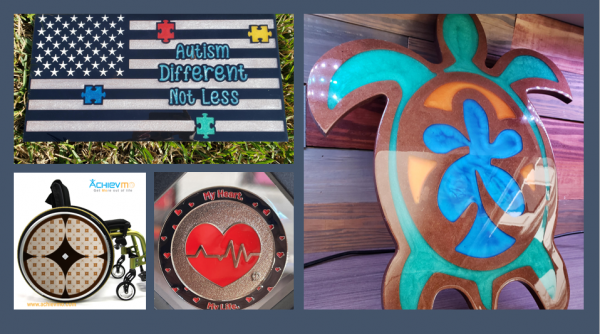 AchievMo Signature Merchandise includes cutting boards, wheelchair caps, clothing, and awareness coins. Every item has been crafted by their team of professional designers passionate about positive causes that change people's lives.
The offering is suitable for non-profit organizations that want to raise funds through merchandise but don't want to handle inventory and productions. Passionate supporters of causes like cancer, multiple sclerosis, etc., can also find items to purchase to support their preferred organizations.
AchievMo is on a mission to create the world's largest collection of officially licensed non-profit organizational merchandise for non-profits to raise money for their causes easily. They're combining genius creative designs with modern technology to produce merchandise that attracts attention and meets both non-profit organizations and their supporters' needs.
They have a highly responsive website with an attractive interface and intuitive user experience design that makes it easy to browse through their store and select the right items for any campaigns. There are so many products to choose from, depending on the cause or project. Many more items are being added daily to populate the site and give clients a wider choice.
Wheelchair Caps by AchievMo is the only custom wheelchair caps available in the US, made to order or bulk. It offers a clever and visible design that also passes a powerful message. The cutting boards are exceptionally designed Laser engraved products allowing foundations to include their designs. Awareness Coins come in different colors, designs, and patterns and they are the only coins designed to raise awareness for non-profits.
Each Awareness Coin series is custom designed to meet the goals of the cause and foundation. A superior two-sided coin forged out of metal alloy and nickel or gold plated, then meticulously hand filled with colored enamel, these coins look and feel extraordinary.
AchievMo Exclusives are custom design merchandise created by the AchievMo professional design team, which are available in limited series. There are also commissioned auction items that are created to maximize fundraising.
AchievMo offers free shipping on all orders over $35, a 365-day satisfaction guarantee, and online 24/7 customer support. Utilizing technology, a vertical engineering system and multi-channel e-commerce solutions such as web, mobile, social media, email and more. They have created a system to deliver consistent results, maximize fundraising and distribute successful on-demand merchandise supporting causes effortlessly.
For more information, please visit the company's website – http://www.achievmo.com/ or check them out via their social media handles like Facebook, Instagram @achievmo and LinkedIn.
Media Contact
Company Name: AchievMo
Contact Person: Brian Chiorello
Email: Send Email
Phone: 352-988-5786
Country: United States
Website: www.achievmo.com