Dravet Syndrome: Overview, Epidemiology, Treatment Market, Emerging Drugs and Key players
DelveInsight's 'Dravet Syndrome Market Insights, Epidemiology, and Market Forecast – 2030' report deliver an in-depth understanding of the disease, historical and forecasted epidemiology as well as the market trends of Dravet Syndrome (DS) in the United States, EU5 (Germany, France, Italy, Spain, and the United Kingdom), and Japan.
Dravet Syndrome is a severe form of epilepsy characterized by frequent, prolonged seizures often triggered by high body temperature (hyperthermia), developmental delay, speech impairment, ataxia, hypotonia, sleep disturbances, and other health problems.
How Dravet Syndrome has impacted people's lives?
Key facts of Dravet Syndrome Epidemiology:-
The total Dravet Syndrome incident population in 7MM was 30,820 in 2017
The number of Dravet Syndrome patients in the United States was 20,912 in 2017
The number of Dravet Syndrome patients in Japan in 2017 was 2,766
The age-specific incidence in the US was the highest among 4–8 years old, followed by 9–13 years old patients in 2017
The seizure-associated cases of Dravet Syndrome in Japan in 2017 was 1,369
How will Disease transform Dravet Syndrome Market?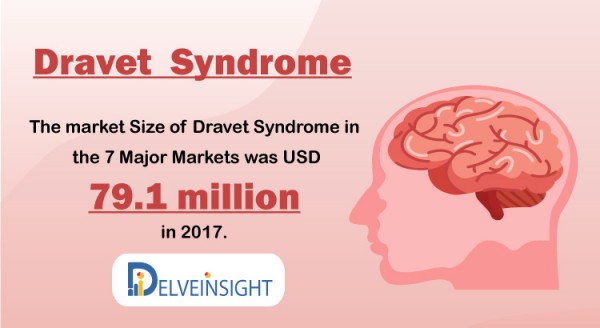 Valproic Acid (Epival) and Clobazam (Onfi) constitute the first line of therapy for the management of Dravet Syndrome. These are a broad-spectrum antiepileptic agent with multiple mechanisms of action that include increasing gamma-aminobutyric acid (GABA) synthesis and decreasing GABA degradation, inhibiting voltage-sensitive sodium channels and T-type calcium channels and possibly reducing glutamate synthesis; they constitute the first generation of antiepileptic therapies.
Second-line antiepileptic drugs comprise of Topiramate (Topamax) and Stiripentol (Diacomit, Biocodex). Topiramate is a broad-spectrum antiepileptic drug with multiple mechanisms of action, including enhancement of GABAergic activity, inhibition of kainite and AMPA glutamate receptors, blockage of voltage-dependent sodium and calcium channels, and increases in potassium conductance. Evidence of its efficacy based on any large-scale cross-sectional studies is, however, not available.
Stiripentol (Diacomit) on the other hand, is a structurally unique antiepileptic drug approved for use in Europe, Japan and USA for refractory seizures in Dravet Syndrome, in combination with valproic acid and clobazam. Although approved in Europe and Japan since 2007 and 2012 respectively, it received FDA approval late last year. Its novelty lies in the fact that with regards to its GABAergic action, stiripentol acts on a site distinct from those on which benzodiazepines and neurosteroids act. However, it is used in combination with valproic acid and clobazam as there is no evidence to support its use as monotherapy.
Third-line antiepileptic drugs consist of Levetiracetam (Keppra), Zonisamide, Clonazepam (Klonopin) and few others. Levetiracetam novel, broad-spectrum, anti-seizure medication with several possible mechanisms of action. Zonisamide is a sulfonamide with broad-spectrum anticonvulsant properties. Its mechanism of action is thought to be cell membrane stabilization by blocking the repetitive firing of voltage-sensitive sodium channels and reducing voltage-sensitive T-type calcium currents without affecting L-type calcium currents. Ethosuximide is an anti-seizure medication that has a narrow therapeutic profile and is used predominantly for absence seizures but also has some data for harmful myoclonic seizures.
Dravet Syndrome Market Drivers
Increase in research activities
Increasing disease awareness
Dravet Syndrome Market Barriers
Disease Burden
Diagnostic Challenges
Comparatively Reduced Focus
Which biotechnical companies are developing Dravet Syndrome drugs?
Dravet Syndrome Emerging Drugs
ZX008 by Zogenix
Soticlestat by Ovid Therapeutics
Ataluren by PTC Therapeutics
Dravet Syndrome Marketed Drugs
Diacomit by Biocodex
Epidiolex by GW Pharmaceuticals
Overall, the increasing awareness of the disease assisted by organizational support along with the promising Dravet Syndrome pipeline therapies is expected to fuel Dravet Syndrome market size during the forecast period of 2020–2030.
Media Contact
Company Name: DelveInsight
Contact Person: Priya Maurya
Email: Send Email
Phone: +919650213330
City: Albany
State: New York
Country: United States
Website: https://www.delveinsight.com/