Superba TLC and NEC Enterprise Solutions strengthen partnership in Global Marine industry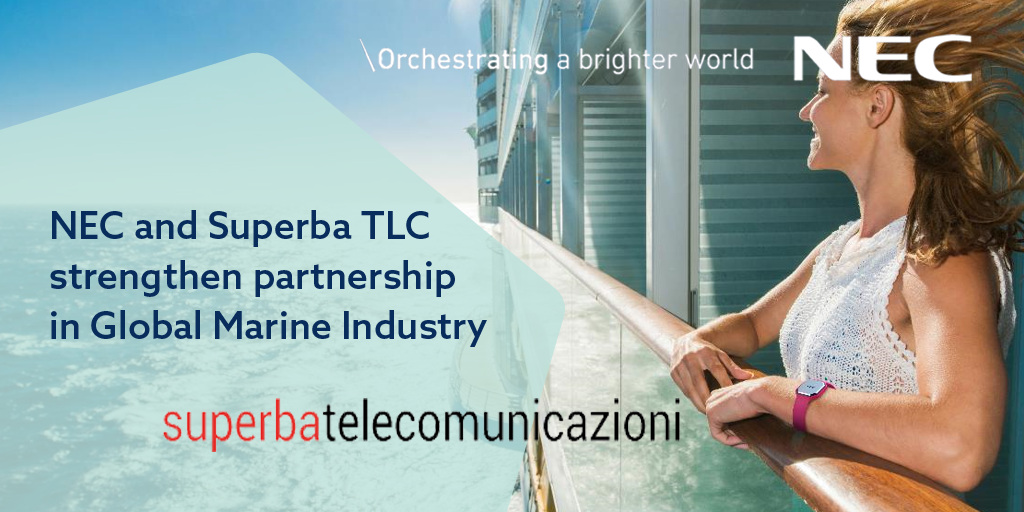 "The knowledge and experience of Superba TLC with regard to the NEC VoIP platforms, UC&C applications, Contact Centers and Mobility solutions are invaluable, as well as their insights, customer focus and market position in the Global Marine Industry. Expertise, drive and reliability are common core values of our organizations and that is reflected in our partnership", says Karien Ciggaar, Sales Director Global Marine at NEC Enterprise Solutions EMEA."
NEC Enterprise Solutions, global leader in Communications & IT solutions, today announced that it has signed a Business Partner Agreement with Superba TLC to join forces in the Global Marine Industry.
The excellent relationship between the two organizations and the in-depth experience and expertise of the Superba TLC team with NEC's rich portfolio of solutions has led to further strengthening the partnership that perpetuates and expands the offering of new solutions towards Global Marine customers. New and existing Cruise Line customers can rely on high-quality and future-proof support for their IT and Communication solutions.
Global Marine

Both Superba TLC and NEC can be proud of an impressive customer list within the Global Marine Industry.
NEC has over the years developed a portfolio especially suited for the Cruise Line industry that includes a world-renowned professional IP-DECT wireless solution, uniquely geared for ocean going vessels (changing regulatory required frequency automatically and including non-reflective features, also useful for local vessels). On top of this, health and safety alarm messaging applications and location services help to keep the crew and passengers safe, healthy and secure. Of the global Top 6 Cruise Line Companies, close to 30% of all vessels are equipped with NEC solutions and NEC is actively engaging with their head-offices worldwide to help their crew and customers to safely return to sailing again.
Proud to join the Global No.1
"Formalizing our existing relationship with NEC is an extremely positive step forward for us, as it enables the group to explore and capitalise on new opportunities in the Global Marine business. NEC is a global leader in many facets of technology and we are confident their solutions will enable all our customers to enjoy many business benefits," says Stefano Giuffredi, Chairman of Superba TLC.
For Superba TLC, as one of the leading Global System Integrators in the field of Telecommunications, particularly for the Global Marine Industry, NEC is a natural fit. The broad and powerful portfolio of this world leader enables Superba TLC to further expand its offering in the Global Marine market space towards cruise ships, river ships, ferries and related customers. We very much look forward to working with NEC to grow our solutions and services business and believe this alignment will support us in meeting the increasing demand and fulfil our growth ambitions".
NEC offers a broad range of enterprise communications solutions – ranging from small to very large systems that effectively support Enterprise and SMB customers whose requirements span from traditional TDM to full (S)IP and 100% software-based deployments.
For more information please contact NEC Enterprise Solutions:
Robert van Amerongen
Tel: +31 35 689 1521
[email protected]
About Superba TLC

Superba TLC provides cutting-edge solutions in all that is Telecommunication and Technology inherent in it today: from Voice to Data Transmission; from Information Technology to Video Surveillance and Access Control; from audio/video to Electrical Systems. With six areas of activity and an infinite number of complex problems to be solved, Superba TLC stands as a single point of reference.
The main virtue of Superba TLC is the deeply industry knowledge: in other words, the ability to act on a broad scope with in-depth specific skills. The merit of a corporate philosophy based on the utmost attention to technological evolution, the choice of partners of absolute value, and customer care that is not limited to solving problems, but includes guidance and assistance at every stage of the work. For the customer, this results in costs effectiveness, performance, and fairness of the investment made with the results achieved.
Web-site: http://www.superbatlc.it
About NEC Enterprise Solutions:
NEC Enterprise Solutions provides IT & Communication solutions to small, medium and large enterprises in both the private and public sectors. Designed for open connectivity, high availability and flexible growth, our innovative solutions incorporate the latest voice, data and video technologies and enable real-time, collaborative working, increased productivity and customer satisfaction. Our servers, storage solutions, software and virtualized workstations enable businesses to maximize operational efficiency, performance and profitability.
NEC Enterprise Solutions serves its customers across EMEA (Europe, Middle East & Africa) through a network of direct sales organizations, business partners and value-added resellers.
For more information, please visit: https://www.nec-enterprise.com/
About NEC Corporation
NEC Corporation is a leader in the integration of IT and network technologies that benefit businesses and people around the world. By providing a combination of products and solutions that cross utilize the company's experience and global resources, NEC's advanced technologies meet the complex and ever-changing needs of its customers. NEC brings more than 100 years of expertise in technological innovation to empower people, businesses and society.
For more information, visit NEC at http://www.nec.com
NEC is a registered trademark of NEC Corporation. All Rights Reserved.
Other product or service marks mentioned herein are the trademarks of their respective owners.
©2020 NEC Corporation.
Media Contact
Company Name: NEC Enterprise Solutions
Contact Person: Jim Eagers
Email: Send Email
Phone: 0115 969 5700
Address:Innovation House, Mere Way, Ruddington Fields Business Park
City: Ruddington
State: Nottingham, NG11 6JS
Country: United Kingdom
Website: https://www.nec-enterprise.com/