ZT Club Talks to CloudChat Advisor Tony tong: Looking at the future of CloudChat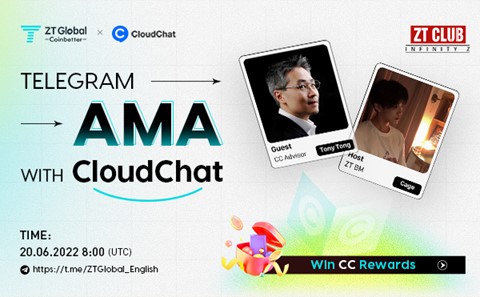 Web3.0 social has been a hot topic of discussion in crypto world, and from the moment Musk announced the acquisition of Twitter, more and more people started to focus on the future of social DAPP. After Web3.0 successfully changed "finance" and "game", more and more people think that the next one to be changed is probably "social". Among the many Web 3.0 social projects, CloudChat (CC) has been particularly notable.
On June 20 at 8:00 Singapore time, CC Advisor Tony Tong will be on ZT Club, talking with Cage, Business Manager of ZT Club, to share with users about CC, the current development of Web3.0 social track and the future of CC.
At the beginning of the live broadcast, Tony tong introduced CC to users, which itself is a social application that disrupts social and blockchain by integrating the CloudChat wallet. Using the original fully distributed anonymous p2p network communication protocol, the original composite transaction subgroup consensus mechanism and mining mechanism, support for transaction anonymity protection, Turing-complete smart contracts and other features, the platform's vision is to realize the anonymization of the full range of value systems such as online surfing, social networking, communication, payment, transaction, advertising, games, etc., break through various key technologies of the value transmission network, and build a global value Internet and free CC is a secure Web3 communication social SoFi DAPP, including Rich Communication Service RCS, which provides personal chat, group chat, VoIP, video call, walkie-talkie, content sharing and file transfer services, and supports a series of services related to IoT devices, including registration, discovery, remote call, billing and payment, and also has streaming, platform billing and other services.
CC Token wallet system is developed based on blockchain information technology, it pursues the ultimate user experience, making the payment environment more secure and asset management more convenient. cc wallet supports multi-currency and multi-language, and perfects API interface.
When discussing the value of CC tokens, Tony tong introduced that CC has 20 million registered users, 200,000 daily active users, and a solid community user base with users radiating from Asia to all over the world in just 3 years from the 2019 IPO to 2022. Any good token should have real application, utility, user base, community, ecosystem, and more importantly, CC can help users make money while building their cryptocurrency user base and doing cryptocurrency payments through CC wallets.
CloudChat rewards CC tokens to users who contribute to system liquidity through various incentives. At the same time, CC tokens are repurchased through an incentive mechanism. Community users can enjoy CloudChat community benefits by holding CC tokens.
Tony tong believes that "CC has come far enough without a strong development team, the CC development team started making mobile chat apps back in 2018-19 to try to compete with WeChat, the development team members were initially spread across Greater China, Hong Kong, Taiwan, Singapore and now expanding to Dubai, USA, etc. after night and day efforts of the team members, CC has gone live with cryptocurrency wallet and payment features."
The CC development team made us a better ChatApp, SocialFi app, dedicated to serving the cryptocurrency community: DeFi, GameFi, NFT, Move2Earn, Play2Earn.
When asked about CC's roadmap for the second half of the year, Tony tong was excited to say that CC plans to list on more cryptocurrency exchanges and DEX.CC, and also wants to grow more on the user base and get more KOLs, ambassadors to join us and help promote CC in your region and industry.
US VC DFJ.com is reviewing CloudChat.cc , and we plan to do CC with local regional leaders, e.g. HKBA.club www.EDI.college.Hong Hong Kong Digital Currency Academy (HKDCA) elected Tony Tong, HKBA as the Chairman of Blockchain Education Committee.
HKDCA-HKBA : 2020/6/16 PR
The Hong Kong Digital Currency Academy (HKDCA) held a launch ceremony with the theme of "New Era, New Technology, New Vision" at the Kerry Hotel in Hong Kong on June 16, and elected Eric Tang, Co-Chairman of Edi.College of the Hong Kong Bar Association, as the Chairman of the Blockchain Education Committee.
Over 1000 people came to our HKDCA HKBA.club meeting in Hong Kong on June 16. At the end of the AMA, Tony tong elaborated for users the core competencies that enable CC to grow steadily in the long run. CC is positioned not only as a single-purpose chat application, but also as a social Fi ecosystem builder with a cryptocurrency wallet/payment function that allows users to easily and securely transfer and receive digital assets, create and manage wallets, and the system supports the import of multiple types of wallets.
In the future, CC Token will explore in DeFi, NFT and Metaverse, and will also build more Web3 ecological applications based on DeFi, NFT and Metaverse virtual reality to promote more scenarios and bring more benefits to global users and players.
The ZT trading platform has been successfully launched on CC and users are welcome to trade.
About ZT Club
ZT Club is an independently operated media integrated service platform and club under ZT Global. ZT Club mainly focuses on project incubation, community integration, activity expansion, industry education and other blockchain-related content integration. It is committed to promoting the prosperous development of the blockchain industry and building the industry ecology together. Since the beginning of the broadcast, we have invited many famous industry experts, new blockchain projects, capital institutions, hot communities and other guests and successfully carried out many live sharing sessions.
In the future, we will continue to bring you new traffic, new resources and new ways to play blockchain in the form of voice, video and audio from time to time.
Media Contact
Company Name: ZT Club
Contact Person: Zoe
Email: Send Email
Country: Singapore
Website: ztb.im