Fight, Flight, or Freeze: A Love Story Honored as a Finalist in International Book Contest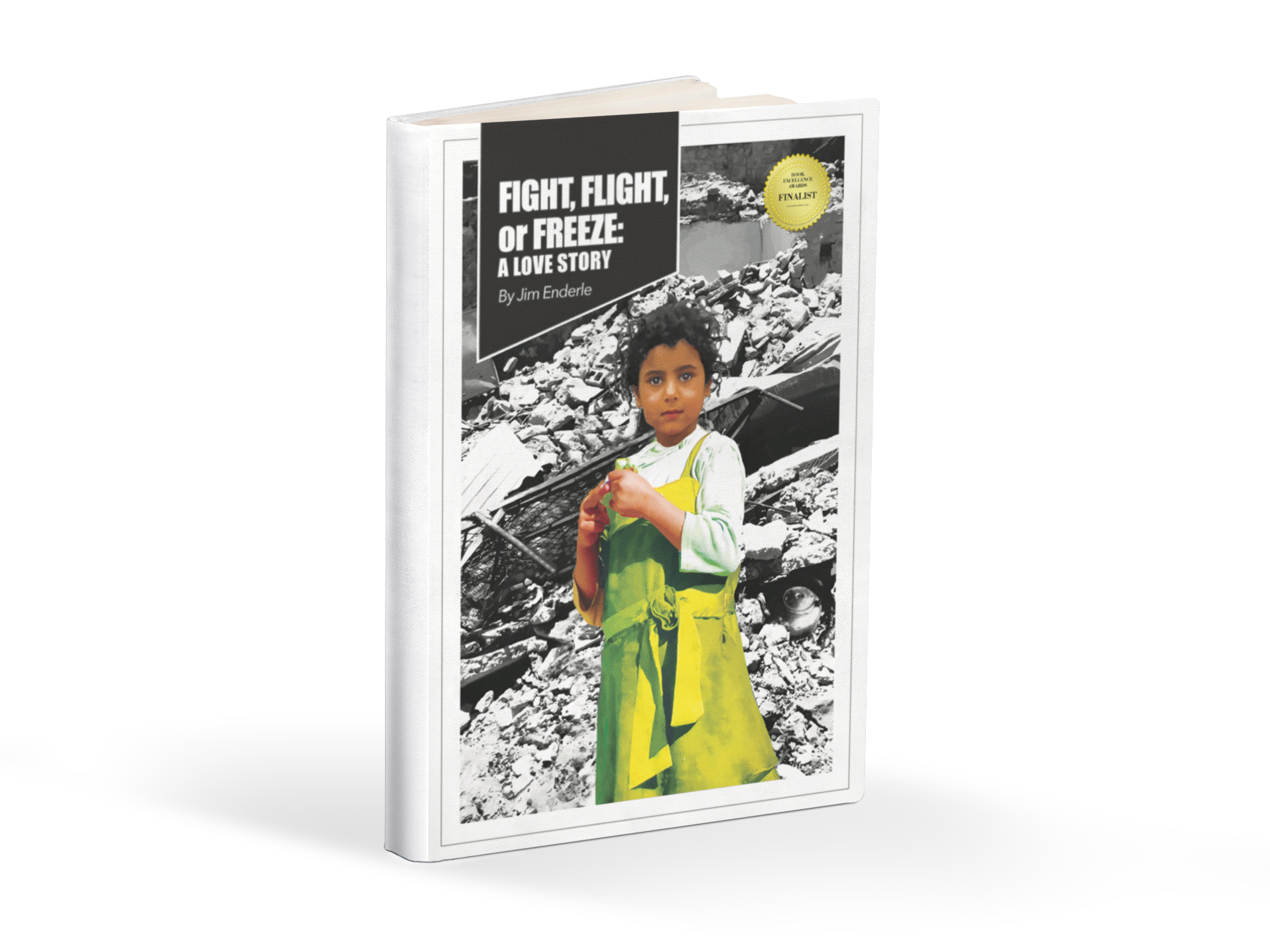 Jim Enderle's memoir was recognized for its outstanding writing, design, and overall market appeal from thousands of books submitted to the international book contest.
Fight, Flight, or Freeze: A Love Story was named a Finalist in the Memoir category of the 2022 Book Excellence Awards. The awards competition is dedicated to recognizing independent and traditionally published authors for excellence in writing, design, and overall market appeal. Previous winners and finalists have been New York Times best-sellers, held speaking engagements at the United Nations and TEDx, and have had their books optioned by movie studios.
Fight, Flight, or Freeze is an inspirational memoir about love, forgiveness, reconciliation, and gratitude. After being separated from his family for two years and on the verge of taking his life, a judge gave Enderle a simple choice. He could start court-mandated counseling or go to jail. He chose jail, but the judge overruled him.
"After spending 13 years writing about my transition to my family after the Iraq War, it was immensely gratifying for my memoir to be recognized," said Enderle. "I'm so honored to have been named as a finalist."
Fight, Flight, or Freeze: A Love Story is a must-read military memoir as readers will see how maintaining humanity and respect during war ultimately affect the lives of veterans and their loved ones. "I didn't know what to think when I discovered a detained al-Qaeda militant had obtained my family's address," said Enderle. "When rockets struck the compound, I went to confront him, but I found him and another detainee grievously wounded. What would happen next would change my life forever."
After the deaths of suspected al-Qaeda militants, Enderle obtained their translated personal effects. In Fight, Flight, or Freeze: A Love Story, he details how their reflections on life and war started his eventual transformation. "From my counselor's therapeutic approach to thirteen shipmates' suicides, to the wonder of reading the translated letters of my worst enemy, my goal was to write of war from a unique perspective. Each of the characters, regardless of where they're from, are worthwhile and lovable human beings."
Enderle's goal is to help families begin conversations with their loved ones after surviving trauma. After finishing his career as the Chief of Submarine Base New London's (CT) Traumatic Brain Injury (TBI)/Post-Traumatic Stress Disorder (PTSD) outpatient clinic, the stories that Enderle outlines show even those who understand mental health challenges can encounter them personally.
Enderle's memoir has received positive reviews from many of today's industry experts and leaders, including Sebastian Junger, author of Tribe: On Homecoming and Belonging. "Jim Enderle has written an utterly unique and profound book on nothing less than war, and life, and love," said Junger. "I doubt I've ever seen pain and hope so closely paired. The path of understanding Enderle set himself on after coming home from Iraq was profoundly moving and clearly saved his life."
Readers will see that humanity is always present, even when people are facing their darkest hour. Fight, Flight, or Freeze: A Love Story is available for $3.99 on Amazon and other online bookstores until August 15, 2022.
About the Author:
Jim Enderle is a native Chicagoan, retired Navy Chief Hospital Corpsman, and Iraq combat veteran. He holds a Master's in the Education of Exceptional Students and is a regularly scheduled speaker on veterans' suicide and transition conversations. He's recently completed two TEDx Talks based on his experiences shared in Fight, Flight, or Freeze: A Love Story.
A long-time DJ at Connecticut College's (New London, CT) WCNI radio station, he uses his Saturday night slot for interviews on mental health issues between free-format music. Enderle lives with his wife, Cindy, of 30 years, and they have two sons, Alfonso and Lorenzo.
Connect with Jim Enderle:
Facebook: https://www.facebook.com/jim.enderle/
Twitter: https://twitter.com/JimEnderle
LinkedIn: https://www.linkedin.com/in/jimenderle/
Instagram: https://www.instagram.com/enderlejim/
Website: https://jimenderle.net/
Media Contact
Company Name: Author News Network
Contact Person: Media Relations
Email: Send Email
Country: United States
Website: authornewsnetwork.com