Prepreg Market to Flourish with an Impressive CAGR during 2022-2030
High demand for prepreg material from aerospace & defense industry is a key factor driving prepreg market revenue growth
The global prepreg market size reached USD 6.94 Billion in 2021 and is expected to register a revenue CAGR of 10.7% during the forecast period, according to latest analysis by Emergen Research. Increasing demand for prepreg from various end-use industries, especially from aerospace & defense, coupled with rising demand from the automotive industry is a key factor driving market revenue growth to a significant extent.
Composite materials such as carbon fiber have replaced metal in the production of aircraft and automobiles owing to light weight and high strength. Moreover, flexibility for casting or molding into any shape highly increases demand for manufacturing of components for aircraft interiors, engine blades and rotors, propellers, fin blades, seats, and tail planes – also known as a horizontal stabilizer – among others. Lighter components also decrease operational costs, which is another key factors driving demand for prepreg and is expected to support revenue growth of the market going ahead.
Get a sample of the report @ https://www.emergenresearch.com/request-sample/1020
Resin types such as phenolic, fiber, and epoxy are utilized for both military and commercial plane and aircraft production. Prepreg is widely used in the manufacturing of reinforcement fiber for ballistic applications in the defense sector. Properties of prepreg such as lightness, strength, and ability to be molded into complex shapes are resulting in rapid increase in demand for better cosmetic grade prepreg with high-quality lamination in the automotive industry. Some other applications of prepreg include sporting goods, racing accessories and vehicle interior components, aerospace applications, commercial products, and pressure vessels.
Rising concerns regarding environmental sustainability are rapidly increasing demand for lightweight parts and components for automobiles to produce lighter vehicles and reduce carbon dioxide emissions is expected to continue going ahead. On 6 May 2022, TRB Lightweight Structures collaborated with Kordsa for manufacturing composite materials that would help in the development of sustainable lightweight composites for deployment in the automotive industry.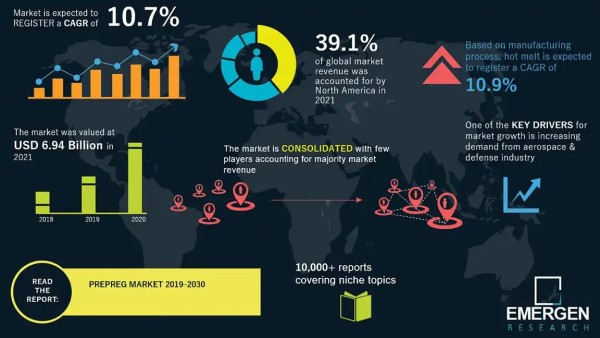 Market Scope:
One of the report's central components is the broad Prepreg market segmentation that includes the product type gamut, application spectrum, end-user industry landscape, significant geographical regions, and the top market contenders. The report contains unbiased industry expert opinions on the current market scenario, past market performance, production & consumption rates, demand & supply ratio, and revenue generation forecasts over the estimated period. The key players' financial positions, along with their gross profits, sales volumes, sales revenue, manufacturing costs, and other financial ratios, have been accurately gauged in the report.
To know more about the report @ https://www.emergenresearch.com/industry-report/prepreg-market
Key Highlights From the Report
Thermoset segment accounted for a comparatively larger revenue share in 2021. Thermoset is widely preferred as it is easy to work with at room temperature and fibers easily permeate before curing. As a result, traction has been increasing and this is one of the primary factors that is boosting revenue growth of the thermoset segment.
Thermoset resins provide improved overall strength, thermal stability, moisture resistance, targeted reinforcement, in addition to chemical resilience, which enables use of the materials in various applications in different end-use industries. Polyester resin, vinyl ester, and epoxy resins are in high demand owing to easy impregnation of reinforcing fibers such as Kevlar, carbon fiber, and fiberglass, among others.
Hot-melt segment is expected to register a steady revenue growth rate over the forecast period. Hot-melt process enables environmental-friendly production owing to no requirement of organic solvents for solvent coating and drying. In addition, stringent norms and regulations have resulted in increased and rapid adoption of the hot-melt process for industrial purposes, and this is expected to continue to drive revenue growth of this segment.
Carbon fiber segment revenue is expected to increase at a significant rate over the forecast period. Carbon fiber is a cost effective, light weight, and strong material with robust potential for a range and variety of applications, especially in aircraft, and motorsport. Properties to enhance structural integrity with reduced wastage of resources is expected to boost demand over the forecast period. On 19 October 2021, Teijin announced that Renegade Materials Corp., which is a U.S. based supplier of heat-resistant thermoset products for the aerospace industry will increase production capacity by 2.5 times.
Emergen Research has segmented the global Prepreg market on the basis of resin, manufacturing process, fiber, end-use, and region:
Resin Outlook (Revenue, USD Billion, Volume (Kilo Tons); 2019-2030)
Thermoset
Thermoplastic
Manufacturing Process Outlook (Revenue, USD Billion, Volume (Kilo Tons); 2019-2030)
Hot-melt
Solvent dip
Fiber Outlook (Revenue, USD Billion, Volume (Kilo Tons); 2019-2030)
Glass
Carbon
Aramid
Others
End-Use Outlook (Revenue, USD Billion, Volume (Kilo Tons); 2019-2030)
Aerospace & defense
Automotive
Wind energy
Sporting goods
Others
Buy Now @ https://www.emergenresearch.com/select-license/1020
The report also studies the key companies of the Prepreg market along with analysis of their business strategies, M&A activities, investment plans, product portfolio, financial standing, gross profit margin, and production and manufacturing capacities.
Key players involved in the market such as Hexcel Corporation, Toray Industries, Inc., Park Aerospace Corp., Teijin Limited, Mitsubishi Chemical Carbon Fiber and Composites, Inc., SGL Carbon, Gurit, Rock West Composites, Inc., Plastic Reinforcement Fabrics Ltd., and ACP Composites, Inc.
Additionally, the report covers the analysis of the key players in the industry with a special focus on their global position, financial status, and their recent developments. Porter's Five Forces Analysis and SWOT analysis have been covered by the report to provide relevant data on the competitive landscape.
Detailed Regional Analysis covers:
North America (U.S., Canada)
Europe (U.K., Italy, Germany, France, Rest of EU)
Asia-Pacific (India, Japan, China, South Korea, Australia, Rest of APAC)
Latin America (Chile, Brazil, Argentina, Rest of Latin America)
Middle East & Africa (Saudi Arabia, U.A.E., South Africa, Rest of MEA)
Request a customization of the report @ https://www.emergenresearch.com/request-for-customization/1020
Key Benefits of Buying the Global Prepreg Report:
Comprehensive analysis of the changing competitive landscape
Assists in decision making processes for the businesses along with detailed strategic planning methodologies
The report offers an 8-year forecast and assessment of the Global Prepreg Market
Helps in understanding the key product segments and their estimated growth rate
In-depth analysis of market drivers, restraints, trends, and opportunities
Comprehensive regional analysis of the Global Prepreg Market
Extensive profiling of the key stakeholders of the business sphere
Detailed analysis of the factors influencing the growth of the Global Prepreg Market
Thank you for reading the research report. To get more information about the customized report and customization plan, kindly connect to us and we will provide you with the well-suited customized report.
About Us:
At Emergen Research, we believe in advancing with technology. We are growing market research and strategy consulting company with an exhaustive knowledge base of cutting-edge and potentially market-disrupting technologies that are predicted to become more prevalent in the coming decade.
Read Full Press Release @ https://www.emergenresearch.com/press-release/global-prepreg-market
Media Contact
Company Name: Emergen Research
Contact Person: Eric Lee
Email: Send Email
Phone: +1 (604) 757-9756
Address:14671 110 Avenue Surrey, British Columbia, V3R2A9
City: Surrey
State: British Columbia
Country: Canada
Website: www.emergenresearch.com/industry-report/prepreg-market