Hereditary Angioedema Market Insights, Epidemiology, and Market Forecast-2032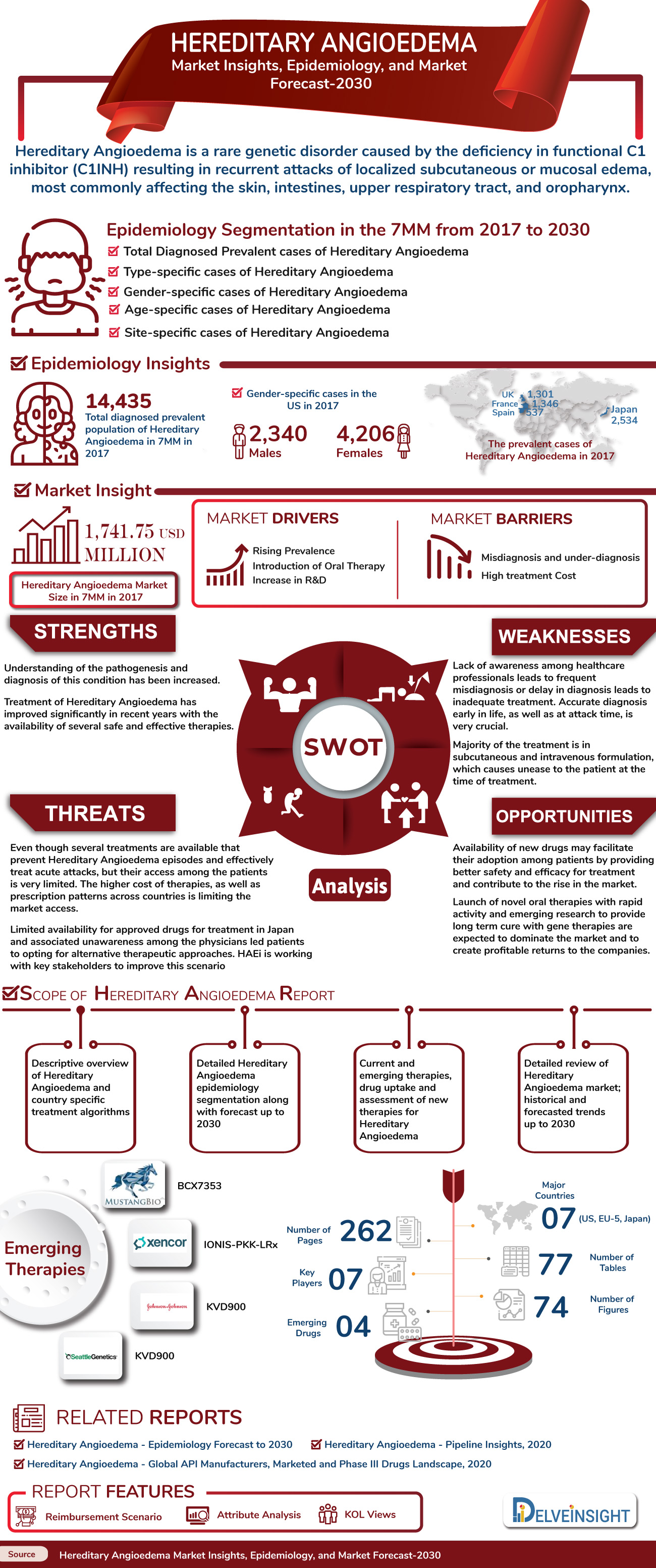 DelveInsight's Hereditary Angioedema Market Insights, Epidemiology, and Market Forecast-2032″ report delivers an in-depth understanding of the Hereditary Angioedema, historical and forecasted epidemiology as well as the Hereditary Angioedema market trends in the United States, EU5 (Germany, Spain, Italy, France, and United Kingdom) and Japan.
The Hereditary Angioedema market report provides current treatment practices, emerging drugs, Hereditary Angioedema market share of the individual therapies, and current and forecasted Hereditary Angioedema market Size from 2019 to 2032 segmented by seven major markets. The Report also covers current Hereditary Angioedema treatment practice/algorithm, market drivers, market barriers, and unmet medical needs to curate the best of the opportunities and assesses the underlying potential of the Hereditary Angioedema market.
Hereditary Angioedema: An Overview
Hereditary Angioedema (HAE) is a rare genetic disorder caused by the deficiency in functional C1 inhibitor (C1INH) that results in recurrent attacks of localized subcutaneous or mucosal edema, most commonly affecting the skin, intestines, upper respiratory tract, and oropharynx. HAE is a heterogeneous disease with complex pathophysiology that involves several pathways resulting in the increased production of bradykinin with mutations of multiple molecules in genetic etiology. These could include the Kallikrein gene mutations; Bradykinin gene or its receptor mutations; Kininase 1 gene mutations and loss of function and mutations in gene encoding aminopeptidase and ACE enzymes.
Download a sample copy of the market report- https://www.delveinsight.com/sample-request/hereditary-angioedema-market
Key highlights of the Hereditary Angioedema Market Report
According to NIH (2013), the estimated prevalence of HAE is 1 in 50,000, with reported ranges from 1:10,000 to 1:150,000. The type 1 is estimated to occur in 80% to 85% of HAE patients, whereas type 2 occurs in the remaining 15% to 20%.
In a study by Lumry, W. R. (2018), HAE occurs in approximately 1:30,000–80,000 individuals and affects less than 8,000 individuals in the United States (USA), 15,000 in Europe, and 200,000 worldwide.
In a study by Pürsün et al. (2018), the prevalence of HAE in Germany estimated to vary between 1.0 and 2.6 per 10,000 while in France it was estimated to be lower and vary between 0.4 and 1.0 in 10,000.
The Hereditary Angioedema market size is anticipated to increase during the study period owing to the increasing incident population and rising awareness of the Hereditary Angioedema Market in the 7MM. The expected launch of emerging therapies and the research and development activities of pharmaceutical companies will also fuel the market growth during the forecast period.
The market outlook section of the report helps to build a detailed comprehension of the historic, current, and forecasted Hereditary Angioedema Market size by analyzing the impact of current and emerging therapies in the market. It also provides a detailed assessment of the market drivers & barriers, unmet needs, and emerging technologies.
The report gives a thorough detail of the Hereditary Angioedema Market trend for each marketed drug and late-stage pipeline therapies by evaluating their impact based on the annual cost of therapy, inclusion and exclusion criteria, mechanism of action (MoA), competition with other therapies, brand value, their impact on the market and view of the key opinion leaders.
Hereditary Angioedema Treatment Market
Early targeted treatment of HAE attacks, as well as a preventative treatment for those with frequent attacks, is the hallmark of current management of HAE. The market overall has been segmented into two treatment strategies that are commonly used for HAE as on-demand therapies, which are taken to minimize the severity of angioedema symptoms and resolve symptoms as quickly as possible and further as long-term prophylaxis of attacks. Short-term (or periprocedural) prophylaxis treatment is taken before activities that are known to trigger attacks.
Hereditary Angioedema Market Insights
BioCryst Pharmaceuticals Berotralstat also known as BCX7353—is a novel, oral, once-daily, highly, selective inhibitor of plasma kallikrein for the prevention and treatment of angioedema attacks in patients diagnosed with HAE. In December 2020, it became first FDA drug to be approved for HAE prophylaxis. Besides, the United Kingdom's Medicines and Healthcare products Regulatory Agency (MHRA) granted marketing authorization for berotralstat for the routine prevention of recurrent HAE attacks in HAE patients 12 years and older. In April 2021, berotralstat got approved by the European Medicines Agency (EMA) for the prevention of recurrent HAE attacks in HAE patients 12 years and older. Recently, in June 2021, it got launched in Germany.
Hereditary Angioedema Emerging Therapies
BMN-331
KVD900
CSL312
IONIS-PKK-LRx
Hereditary Angioedema Companies and Therapies
• Takhzyro: Takeda
• Firazyr: Shire/Takeda
• Cinryze: Shire/Takeda
• Kalbitor: Shire/Takeda
• Haegarda: CSL Behring
• Berinert: CSL Behring
• Ruconest: Pharming Group
• BCX7353: BioCryst Pharmaceuticals
• IONIS-PKK-LRx: Ionis Pharmaceuticals
• KVD900: KalVista Pharmaceuticals
• CSL312: CSL Behring, and several others
Get More Related Information about the Report- https://www.delveinsight.com/sample-request/hereditary-angioedema-market
Table of Content
1. Key Insights
2. Executive Summary of Hereditary Angioedema
3. Competitive Intelligence Analysis for Hereditary Angioedema
4. Hereditary Angioedema: Market Overview at a Glance
5. Hereditary Angioedema: Disease Background and Overview
6. Patient Journey
7. Hereditary Angioedema Epidemiology and Patient Population
8. Treatment Algorithm, Current Treatment, and Medical Practices
9. Hereditary Angioedema Unmet Needs
10. Key Endpoints of Hereditary Angioedema Treatment
11. Hereditary Angioedema Marketed Products
12. Hereditary Angioedema Emerging Therapies
13. Hereditary Angioedema: Seven Major Market Analysis
14. Attribute analysis
15. 7MM: Market Outlook
16. Access and Reimbursement Overview of Hereditary Angioedema
17. KOL Views
18. Market Drivers
19. Market Barriers
20. Appendix
21. DelveInsight Capabilities
22. Disclaimer
23. About DelveInsight
For any query or doubt- https://www.delveinsight.com/sample-request/hereditary-angioedema-market
About Us
DelveInsight is a Business Consulting and Market research company, providing expert business solutions for life science vertical and offering quintessential advisory services in the areas of R&D, Strategy Formulation, Operations, Competitive Intelligence, Competitive Landscaping, and Mergers & Acquisitions.
Contact Us
Yash
Media Contact
Company Name: DelveInsight Business Research LLP
Contact Person: Yash Bhardwaj
Email: Send Email
Phone: 9193216187
Address:304 S. Jones Blvd #2432
City: Las Vegas
State: NV
Country: United States
Website: https://www.delveinsight.com/