Entrepreneurs Media launches first edition of India Ecommerce Show 2022 Exhibition & Conference at Hotel Radisson Delhi Airport in August.

The show is called India Ecommerce Show 2022 on 25-26 August 2022 at Radisson Blu Plaza, Delhi Airport. The show will be visited by various companies related to eCommerce and related industries.
Entrepreneurs Media is a business media that provides a platform to businesses and helps them grow via social media, webinars, workshops, live events, conferences, exhibitions, etc. Entrepreneurs Media is coming up with an exhibition, conference, and award show focusing on the eCommerce industry. The show is called India Ecommerce Show 2022 on 25-26 August 2022 at Radisson Blu Plaza, Delhi Airport. The show will be visited by various companies related to eCommerce and related industries.
Entrepreneurs Media is a platform that focuses on providing entrepreneurial contents and opportunities, for the purpose of educating existing businesses, birthing new entrepreneurs, startups, enhancing the growth of their ventures, and celebrating their entrepreneurial journey.
Just like every media platform we have a specific audience, our listeners, viewers and readers are a special breed of people; you may call them business owners, entrepreneurs, startups, aspiring entrepreneurs, investors, venture capitalists, angel investors, etc.
We are structured to breach the gap between investors and startups by making both parties accessible to one another using our platform.
How Entrepreneurs Media can be helpful for a growing Business?
Entrepreneurs Media is a platform that plans to be a catalyst for you in this journey. We aim to help you in platform integration, substantial knowledge of multiple domains and ensure quality in your entrepreneurial development.
Entrepreneurs Media provides Business updates via blogging, email newsletters, social media, video creation, podcasting, webinars, workshops, live events, conferences, exhibitions, etc.
Entrepreneurs Media Mission
Our mission is to provide a platform for rising entrepreneurs that will help evolve their ideas into viable Business models through various media activities, live events, and knowledge workshops, etc. hand crafted by the Industry and domain experts.
Our Upcoming B2B Event
Entrepreneurs Media is coming up with a 2-day Exhibition and Conference focusing on the ecommerce industry viz. segments like D2C, drop shipping, online retailing, electronic markets, payment gateways, e-learning and much more.
Overview of India Ecommerce Show 2022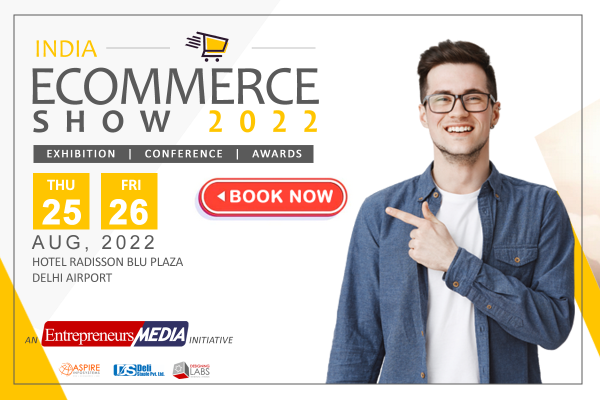 The ecommerce companies have become lifeline for consumers today. Ever since the pandemic has hit the entire country, they are the one who are delivering essentials at door the steps. This era has been the turning point in the ecommerce ecosystem and they have become the preferred choice for every household.
There has been a mixed opinion – some say that this growth will decline after the things get normalize but on the other hand, some believe that this growth will further increase with time. India Ecommerce Show 2022 (IES-2022) – Speakers from top companies will put forward their views on critical topics and discuss strategies in various panel discussions to keep up the momentum. Companies get platform to mark presence by showcasing their products, services, and get a chance to do face-to-face business networking and prospect business clients.
Exhibition
The most important part of our event IES 2022 is the full-fledged physical exhibition where visitors can interact one to one with the exhibitors. Ecommerce service providers will mark their presence in this grand exhibition where 50+ exhibitors showcase their products and services. 600+ visitors are expected to visit the exhibition. The venue for India Ecommerce Show 2022 is Radisson Blu Plaza, Delhi Airport which is strategically located in the middle of Delhi and Gurugram for maximum footfall.
The exhibition focuses on unlimited opportunities for face-to-face interaction with prospect clients and service providers and will surely act as a milestone in the ecommerce industry. Unlimited business networking options are waiting for you in the IES 2022 exhibition. Visitors will get a chance to personally interact with top decision makers and influencers of the E-Commerce Industry.
Why exhibitors should exhibit in India Ecommerce Show 2022?
The exhibitors will get platform to showcase their products/services with live audience. Interact with decision makers, VCs and investors. There are great chances to hire great talent for their venture and look out partnerships for their business. One can get feedback from customers/users about their product/service. Exhibitors will enjoy visibility through media coverage and especially get to feature their company on Entrepreneurs Media.
Conference
India Ecommerce Show 2022 offers power packed 450+ Minutes of not-to-be-missed Knowledge sessions and workshops by renowned speakers. Industry Leaders, CEOs, Decision makers and Directors will put forward their valuable views on current and future business strategies in front of audience. Interesting panel discussions on latest technologies, innovations and global trends will be conducted. There will be a convergence of top level industry executives, senior officials for knowledge sharing.
Award Show
The award show will be conducted for giving recognition to patrons for their valuable contribution to the Ecommerce industry in more than 20 categories.
Companies can nominate their brands and get a chance to win a host of prizes. All the award winners will be featured in our post event report on our online media.
Visitor's Profile
The profile of visitors include Ecommerce companies, Technology companies, IT professionals, IT consultants, IT service providers, Retail professionals, Retail technology companies, Payment gateway providers, Web service providers, App developers, Digital marketing professionals, Branding consultants, Warehousing companies, Logistics companies, Association and industry leaders consultants, Corporate professionals, Aspiring entrepreneurs, Venture capitalists, Government officials, E-market place (GeM), Decision makers, Media personnel, Non-profit organizations, Non-Governmental organizations, Policy level thinkers, Planners, Project developers, R & D institutions, Technology developers, Trade associations, End users, etc.
Why visit India Ecommerce Show 2022?
India Ecommerce Show 2022 has been specially designed for stakeholders of the ecommerce system. All you need to kick-start your business, is waiting for you here. It's the biggest opportunity for corporate networking, potential investments & strategic partnerships. You can share your ideas with top decision makers and investors all at once place. There is 950+ mins. of knowledge sharing and 50+ ecommerce companies showcasing their products/services waiting for you. See you there!
Media Contact
Website: www.entrepreneursmedia.com