Laser Cutting Handles Woven Labels Production with Ease
Woven labels are made up of polyester threads that are woven together on a loom, using fixed warp and weft yarns to express text, graphics, letters, numbers, logos and color combinations. It is characterized by high grade, sturdiness, bright lines and a soft feel. Woven labels can be found almost everywhere, whether in the field of clothing labels, bags, shoes and hats, or plush toys and home textiles, they have become an indispensable decorative element.
Woven labels come in a wide range of colors and shapes, with special-shaped labels in particular. How to cut woven labels accurately and efficiently is a concern for many manufacturers and processors. If you are looking for an alternative process for cutting diverse, custom-shaped woven labels without any wear and tear, laser cutter is the ideal choice. The advantage of the laser cutting process is that it can produce complex irregular shapes to exacting specifications. There is also no thread wear due to the precise thermal cutting finish.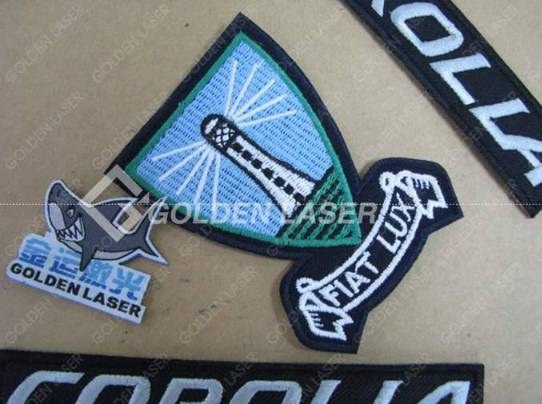 Why use laser to cut woven labels?
Laser cutting has become a popular method used in the label manufacturing process. Lasers can cut your label into any desired shape, making it produced with perfectly sharp, heat-sealed edges. Laser cutting provides extremely precise and clean cuts for labels that prevent fraying and distortion. It is also possible to produce more than just square cut designs, as laser cutting allows control of the edges and shape of woven labels.
Laser cutting used to be applied in fashion. However, laser technology is now becoming more and more popular and has made it more accessible to most manufacturers. From clothing, accessories, footwear to home textiles, you can see the current boom in the popularity of the laser cutting.
Laser cutting provides additional benefits. Laser cutter is available for cutting woven labels and printed labels. The laser cut is a great way to reinforce your brand and show an added sophistication for design. The best part of the laser cut, is its lack of restrictions. We can basically customize any shape or design utilizing the laser cut option. Size is also not an issue with laser cutter.
In additional, laser cutting is not just for woven or printed clothing labels. You can use laser cut finishes on almost any custom design and prototyping project. Lasers are perfect for cutting textile fabrics, custom garment accessories, embroidered and printed patches, applique and even hang tags.
Goldenlaser – automatic recognition laser cutting machines
For the cutting of various complex special-shaped woven labels and embroidery patches, goldenlaser has designed and developed a range of auto recognition laser cutting machines with the following advantages.
1. Unique multiple recognition methods: feature point positioning nesting, automatic contour extraction cutting, Mark point positioning. Professional grade CCD camera enables fast recognition speed and high cutting efficiency.
2. The optional conveyor working table and automatic feeding system enables continuous cutting of labels and patches directly from the roll.
3. Depending on processing requirements, dual laser heads can be configured for faster processing speeds. Multi-head intelligent nesting software, allowing for higher fabric utilization.
4. CO2 lasers of various powers and processing formats of various sizes are available. The most optimal processing platform can be configured according to customers' individual processing requirements.
Media Contact
Company Name: Golden Laser
Email: Send Email
Phone: +86 158 7171 4482
Address:Goldenlaser Industrial Park, Tianxing Road, Hengdian Street
City: Chuanlong
Country: China
Website: https://www.goldenlaser.cc/