Get the most out of AWS Cloud Practitioner Essentials Course in Offer Price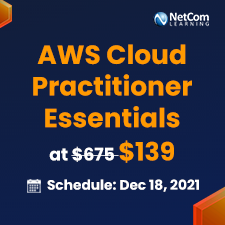 AWS Certified Cloud Practitioner Essentials exam in Promotional Price of $139.00 USD
Get the most out of AWS Cloud Practitioner Essentials Course in Offer Price
If you are preparing for AWS Certified Cloud Practitioner (CLF-C01) exam and looking for the most reliable and effective source of learning, then NetCom Learning is here with an awesome opportunity for you. NetCom Learning is offering AWS Cloud Practitioner Essentials training for just $139.
AWS Certified Cloud Practitioner Essentials exam
The AWS Certified Cloud Practitioner exam validates the skills of the professionals who have the knowledge of AWS Cloud, independent of the specific technical roles. The exam examines the ability to describe AWS Cloud and its basic infrastructure, AWS Cloud security best practices, AWS services, and shared responsibility model. Earning the certification will not only help the professionals from a technical background but also help finance, legal, sales, and marketing professionals to understand AWS Cloud and services. The professionals from non-technical backgrounds learn to interact better with IT professionals and developers who are engaged in AWS projects. The AWS Cloud Practitioner certification is recommended for individuals who want to start their career in AWS Cloud. However, it is optional but a recommended step for earning other associate-level or specialty certifications.
There are 65 multiple responses or multiple-choice questions in the AWS Practitioner CLF-C01 exam. The exam duration is 90 minutes. The minimum passing score of the exam is 700 (out of 1000) that is 70%.
Duration: 1 Day (8 hours)
Price: $675.00 USD
Promotional Price: $139.00 USD
AWS Cloud Practitioner Essentials Training at NetCom Learning
NetCom Learning is an authorized AWS training partner that offers effective and reliable AWS certification training to increase your organization's proficiency with AWS-based applications. The AWS Cloud Practitioner Essentials training at NetCom Learning is delivered by AWS Authorized Instructors (AAI – Champion level instructors). The instructors are AWS experts and certified professionals who possess extensive domain knowledge with a training experience of more than ten years.
The AWS Cloud Practitioner Essentials training will guide you through AWS Cloud and its basic infrastructure, AWS Cloud architecture and its basic principles, core characteristics of AWS Cloud deployment, the value proposition of AWS Cloud, fundamental knowledge about security and compliance of the AWS platform, the shared security model, and much more. The training also provides the hands-on demo of Amazon Cloud Essentials that will help you learn the concepts of AWS Cloud services, Amazon Simple Storage Service, audit security with AWS Trusted Advisor, and build a web server on Amazon EC2.
NetCom Learning offers flexible, seamless, and convenient delivery methods. They offer instructor-led training on the AWS Cloud Practitioner Essentials course to help you prepare for the AWS CLF-C01 Fundamentals exam and earn the certification.
NetCom Learning is offering the training at just $139 for the class scheduled on Dec 18, 2021. Use the promo code AWS139 and grab the opportunity to save up to 80%. You would not want to miss the chance of getting the training for this offer price. After the AWS Essentials course completion, you will get an e-certificate of course completion. You can download the certificate from the NetCom 365 student portal anytime.
About NetCom Learning
NetCom Learning helps build innovative learning organizations in the workplace by structuring a more competent workforce, supporting learning changes, and driving learning growth. Since 1998, NetCom Learning has empowered organizations to reach optimal performance results and address challenges by managing all aspects of organizational learning. NetCom Learning has serviced over 80% of Fortune 100 companies and has helped over 10,000 organizations achieve their business goals by offering a full complement of Managed Learning Services, including IT and business training, curriculum design and content development, learning delivery and administration, consulting, and advisory services, and management of learning technology.
Media Contact
Company Name: NetCom Learning
Contact Person: Media Relations
Email: Send Email
Phone: (212) 629-7265
Address:252 West 37th Street Suite 1200W
City: New York City
State: NY 10018
Country: United States
Website: https://www.netcomlearning.com/