Ann Arbor Apartment shares their customer reviews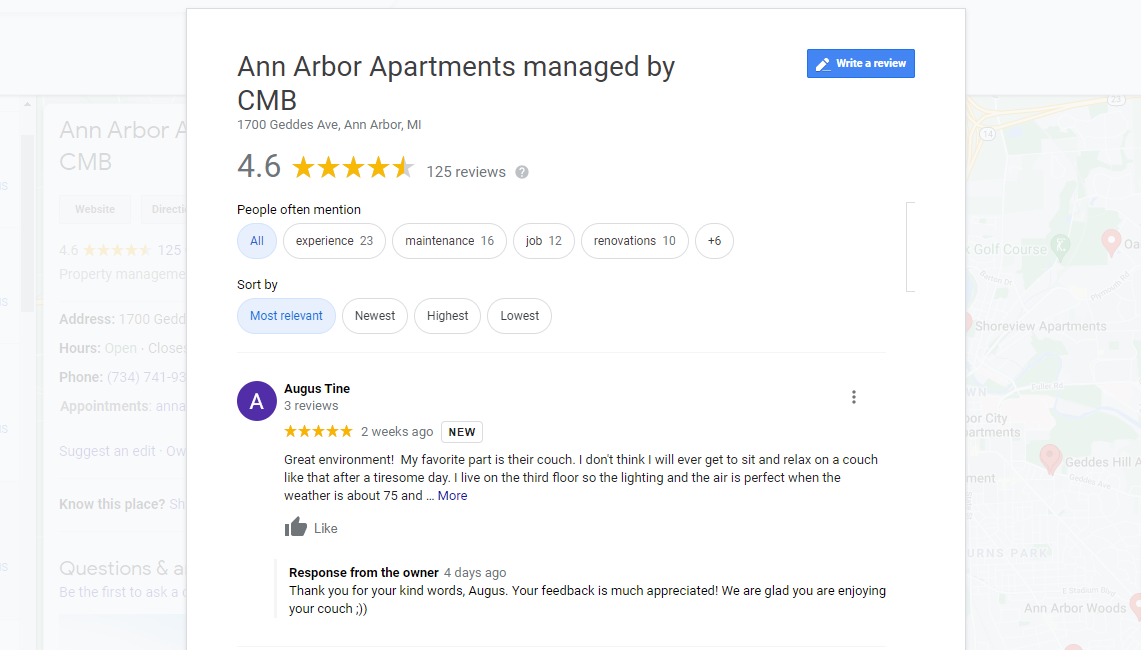 For the twenty-five years that the company has been operating at the University of Michigan Campus area, Ann Arbor Apartments has proudly served its residents with dedication. The rental property company has treated the residents as part of their big family. The love that they have shown their residents have paid back as the turnover rate for the real estate properties has been relatively low. The company representative reveals that they have lived with some residents for more than ten years, where they came in when they were students and extended their stay even after completion of their studies.
A review from one resident who has been with them for more than ten years says he chose the AAA properties when he joined the University of Michigan Campus and he has never tried any other real estate. The resident says that he decided to stay in Ann Arbor mainly due to the experience I got from AAA. "I fell in love with Ann Arbor due to the experience that I got from Ann Arbor Apartments, they treated me so well, I felt as I was in a home away from home. I decided to look for a job here and luckily it did not take me long before I secured one," said the reviewer while adding that the treatment he got at the real property rental company made the stay smooth contributing to good performance in school and subsequent easy ride to securing a good job.
Another review was from residents who required some renovations. One of the residents had moved into Ann Arbor Apartments one year ago. She reveals that the experience has made her happy. "Good value apartment, I also enjoy the neighborhood, it is quiet. When I needed renovations they were done fast and to my satisfaction, I can't thank AAA enough, I have lived in other places but the kind of treatment I have received here is unrivaled," said the reviewer.
Another review was a "thank you" note to two staff members who helped the reviewers in re-doing the bathroom countertops. "These guys were super nice; they did the job quickly and to our satisfaction. We are glad we choose AAA as our rental company, we could not have asked for more," said the residents adding that they highly recommend AAA properties for their cleanliness, safety, and security.
For more information visit: https://annarborapartments.net/
About Ann Arbor Apartments
Ann Arbor Apartments (AAA) is a rental property company located in Ann Arbor, Michigan. The real estate company is family-owned and operated. It is professionally managed by a team of caring professionals. The highly dedicated, trained, and experienced staff offers professional property management and administration services that are socially and environmentally sensitive. AAA is currently operating in seventeen premier communities located around the University of Michigan Campus. They have proudly served the U of M campus area, downtown Kerrytown, and the beautiful Westside for more than a quarter-century where they have strived to make their residents feel like part of the extended family.
Media Contact
Company Name: Ann Arbor Apartments
Contact Person: Media Relations
Email: Send Email
Phone: 734.741.9300
City: Ann Arbor
State: MI
Country: United States
Website: https://annarborapartments.net/