Exclusive Interview With Richie Madewell, Singer And Songwriter Steadily Building A Reputation In The Music Industry
In this exclusive interview, the extremely versatile and talented artist talks about his music journey so far, his style, the inspiration behind his songs, upcoming projects, and more.
Interviewer: When did you start singing?
Richie: I guess I started singing when I was in high school, but I didn't sound that great. I didn't get halfway decent at singing until my late 20s.
Interviewer: What would you say is the inspiration behind your music?
Richie: Each song is different. Some are inspired by relationships, while others are inspired by politics or just something I saw while walking down the road. Every song has its own story.
This song though, 'There Is No Time to Die', started as kind of a self-challenge. I'm a big fan of Chris Cornell and really liked
'You Know My Name', the song he did for Casino Royale. When I heard a new Bond movie was coming out I challenged myself to make a Bond-style theme song just for fun and this is what I came up with.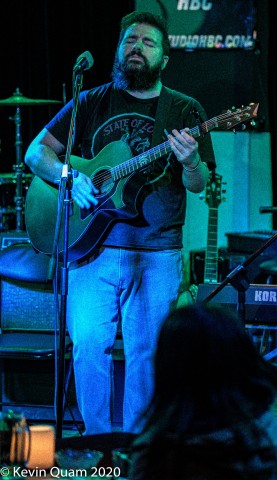 Interviewer: How would you best describe your music?
Richie: Diverse. Some songs are lighter and some are heavier. Some are dark and some are more hopeful. I'm interested in a lot of different styles of music and I like exploring all of them when I write.
Interviewer: What would you say is your biggest motivation?
Richie: When it comes to music, I feel like I just need to get these songs out of my brain and onto a piece of paper or a recording. They'll just bother me forever until they get released into the world. Doing nothing with a song idea is like trying to ignore an itch.
Interviewer: Do you have any short term plans?
Richie: I'm working on my second album now and hope to have it released next year. As well, I've formed a band with some friends and we're calling ourselves Absolute Monsters. We're looking forward to playing shows once things open up and eventually we'll get to recording. I'm really happy with what we've made so far.
Interviewer: What motivated you into releasing your first ever single?
Richie: My first ever single was 'Golden Throne' back in 2016. I wrote it about the run up to the 2016 US election. It's just me telling trump to give up the race and let someone who knows what they're doing do the job. I was hoping the magic of music would make my wish come true, but I guess it didn't work. Maybe the third single's the charm.
Interviewer: Any long term plans?
Richie: I'll just keep making music and see where it takes me.
Song links
'There Is No Time to Die' will be released on August 30th.
Media Contact
Company Name: Richie Madewell
Contact Person: Media Relations
Email: Send Email
Country: United States
Website: https://www.facebook.com/musicrichiemadewell/