New cookbook "Feeding Family, Feeding America," Created by Three Generations of Women, Offers Delicious, Easy-to-Make Recipes: 100% of Book Sales Benefit Feeding America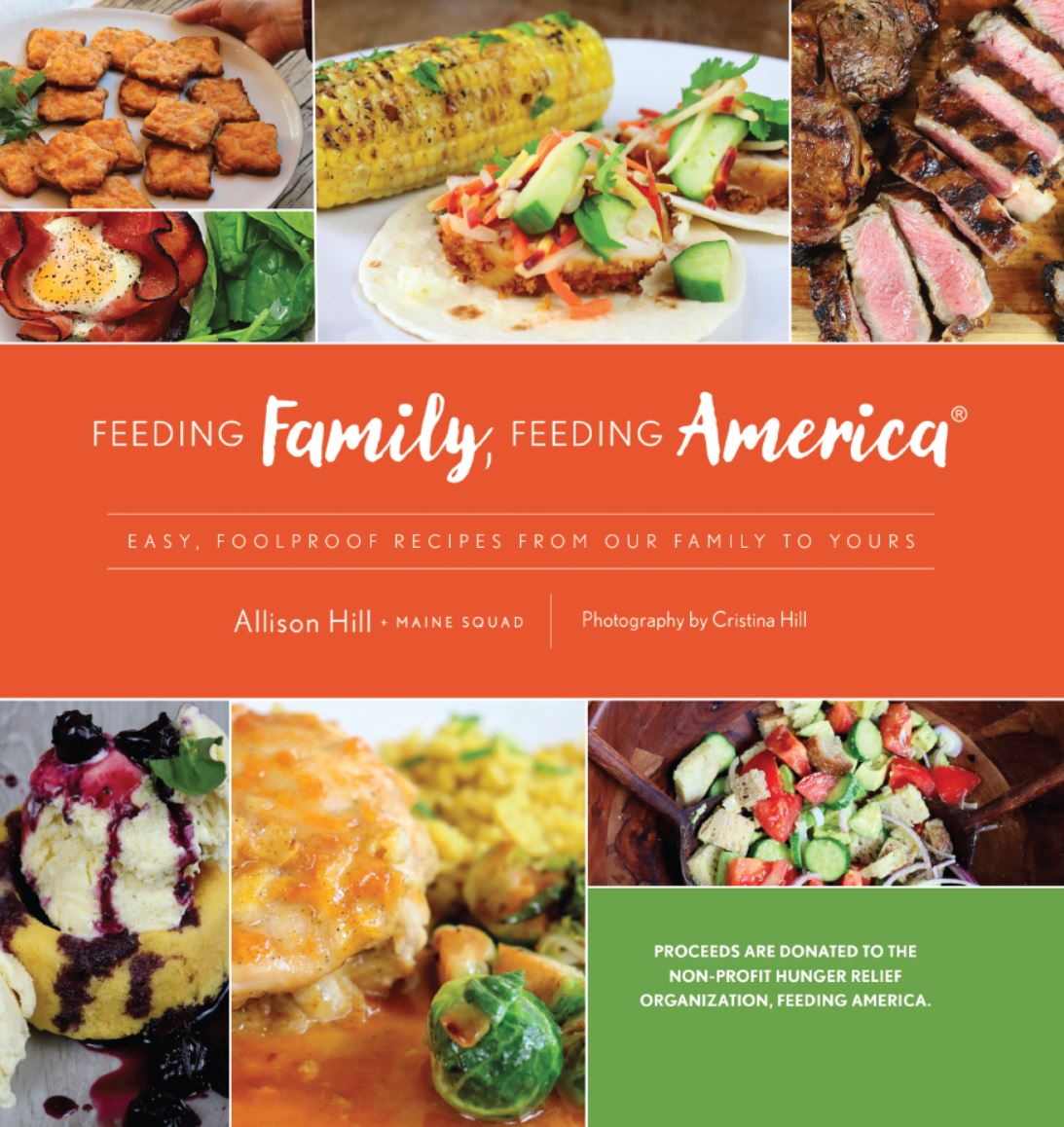 "Feeding Family, Feeding America" written and produced as a family affair by family members and three generations (Allison Hill, Cristina Hill, Chauncey Hill, Joan Satter, Carlisle Ghirardini, Cate Ghirardini, Caroline Ghirardini), has been released worldwide. This 112-page cookbook features favorites from Allison and her family, affectionately referred to as the "Maine Squad." Developed while this extended group self-isolated in Ogunquit, Maine, the dishes are organized by meal type, and cover a broad range of styles – each packed with flavor and relatively simple to make. 100% of the proceeds from each sale are donated to the non-profit hunger relief organization, Feeding America, with up to 100 meals served per book purchased.
"While the disappointments rolled in – missed senior years, missed prom, missed friends – we noticed many Americans were severely affected by the pandemic due to no fault of their own, especially those most marginalized. As a mom, seeing my daughters and nieces have a project and purpose to keep them focused on others was very rewarding," said Allison Hill.
According to Feeding America, "Due to the effects of the pandemic, more than 50 million people may experience food insecurity in 2020, including a potential 17 million children. Having the creative support from families like this raising funds is so valued and appreciated."
Feeding Family, Feeding America (ISBN: 9781735818689 / 9781735818696) can be purchased through retailers worldwide, including barnesandnoble.com and Amazon. The paperback retails for $24.99, and the hardcover retails for $29.99. Wholesale orders are available through Ingram.
From the back cover:
This book is meant to give ideas for creating delicious, flavorful foods that take very little effort and the whole family loves. We also included the influence of one of our town's best, local ingredients we pick up straight from the boats on the dock – lobster!
It wouldn't be a family cookbook without the whole family participating as key grips, food stylists and taste testers. My daughter Cristina (16) was food photographer; Chauncey (19) was creative director; and my nieces Carlisle (22), Cate (19) and Caroline (16) took the lead with naming and food styling. Noni (76) cooked, tasted and edited, edited, and edited until she couldn't take it anymore. Pop (76) just tasted. My husband Geoff contributed a few of his own recipes too! We loved working on our project… together.
We hope you enjoy this peek into our family recipes, all while helping others.
To learn more, visit: https://feedingfamilyfeedingamerica.com/
About Feeding America:

Feeding America is a nationwide network of 200 food banks and 60,000 food pantries and meal programs that provides food and services to people in need. They are the nation's largest domestic hunger-relief organization and helps 1 in 7 Americans. 1 in 7 of our neighbors is too many… but, the Feeding America network helps people live more food secure and stable lives. By supporting them and purchasing this book, you are joining efforts to help provide food to people in your community since their network food banks operate in all 50 states, Washington D.C., and Puerto Rico.
About NH book publisher Seacoast Press:
NH book publisher Seacoast Press provides authors with traditional-quality book publishing services while allowing authors to retain publishing rights and 100% royalties. Seacoast Press' wide variety of publishing services includes book design; editorial; printing; distribution; publicity; and marketing. Seacoast Press books are available through retailers and booksellers worldwide.
To learn more about Seacoast Press, the premier book publisher in NH, visit http://www.seacoastpress.com/.
Media Contact
Company Name: SeacoastPress.com
Contact Person: Peri Block
Email: Send Email
Phone: 603-546-2812
Address:1 New Hampshire Ave Suite 125
City: Portsmouth
State: New Hampshire
Country: United States
Website: http://www.seacoastpress.com/