Dubai-Based Fitness Trainer "Coach Nic" Shares his Dreams, Career Highlights and Personal Hobbies
December 9, 2020 – Dubai-based fitness trainer, Nic loved sports right since his childhood and is now regarded by everyone, including his clients, as "Coach Nic" due to his vast knowledge and experience in the industry.
Like every successful individual out there, Coach Nic comes with a story. Sources say that the only reason he didn't pursue a professional career as a player was that he was plagued by injuries, and never got to show his pace and agility to the entire football world.
Family members and friends of Coach Nic disclosed that they weren't at all surprised when he established himself in the sports industry training professional football players like Aaron Wan-Bissaka and other athletes. Despite having some charm about him, it is his advanced knowledge of Kinesiology, the science of human movements, that draws clients to him.
Recently, the Release Wire caught up with Coach Nic to find out about his career, journey so far, and future aspirations.
Release Wire: How did you find your way to your current career?
I have been involved in competitive sports throughout my whole life. Growing up, I played football, American football, and played track & field events, and ice hockey. In short, anything that required me to be quick and to run fast. While at McGill University, due to injuries I wasn't able to make it as a professional athlete. So I decided to go all out and apply my studies in Kinesiology, apart from having many years of experience helping high-level athletes reach their dreams of making it professional. For the past 15 years, I've worked with football players from the Premier League, La Liga, Ligue 1, and the Bundesliga to make them more explosive, better athletes and to help them prevent injuries. I've also had the pleasure of training UFC champions, Olympic athletes, NFL players, and even celebrities like 50 Cent and The Game.
RW: Did you try other career paths?
I always knew I couldn't do a 9-5 job sitting at a desk, so I always wanted to do something that involved my passion, which is sports. When I finished high school, I actually wanted to study physiotherapy, but I didn't have the grades, so I decided to study Kinesiology instead, which is the study of body movements. It's funny how things have a way to happen because this was obviously where I was meant to go. Once I discovered about this science and how to train athletes scientifically, there was no looking back.
RW: How many times did you try before you succeeded?
I still don't feel like I've really succeeded yet, because there is so much more I want to do. But I can definitely say that it took many tries. Making it in the fitness industry is no easy feat, and it's not only about knowing the science and being a great trainer anymore. You also have to know how to be a businessman and learn about branding, marketing, and networking.
RW: You probably didn't imagine being as famous as a kid. How does it feel to be famous now?
This might sound funny, but deep down inside, I always wanted to become famous and always knew I would make it somehow. Playing high-level sports and training for them teaches you some lessons for life and helps to develop your character. It's not anymore about if you will make it, but more about how and when you actually will get there.
RW: What's your plan to dominate your industry and be one of the best at what you do?
In my industry, you always have to keep learning, because there's always some new scientific research that comes out with new data to help understand the human body better. I've launched my online training programs during Covid-19, and this is what I want to focus on in the future because it allows me to reach out to and help out a lot more players. There're only so many hours in a day to see athletes in person, so doing online training helps me to change the lives of more players, especially younger football players who want to make it pro.
RW: Do you have other activities developing on the sides?
There're always activities developing on the side, which is one of the reasons I've been successful so far, I think. There are so many opportunities out there, so I try to see which ones could potentially work and maybe help my career in the future. For example, a few football teams have approached me in the last months, so this could be something I could look into.
RW: How many brands have you partnered with so far?
Over the years, I've worked with many international brands in the Middle East. These include UnderArmour, Redbull, Men's and Women's Health (I was actually on the cover of Men's Health in June 2016), Mysixpak (Meal Prep in Dubai), and supplements companies like Cellucor, and many more.
RW: Do these brands have to meet certain criteria of yours before you work with them?
Yes, absolutely, they have to represent the same values as me. This is why I've been an Underarmour ambassador for over 5 years. I've always been a fan of their quality and their brand, especially now with The Rock on board too.
RW: Every interesting person often has an interesting take on the family. What's yours?
I'm a family man. Everything I do is for my future family, and the goal in the upcoming years is to move back home to Canada to be closer to my family. I'll probably end up living there for half of the year, with the other half being in Dubai and in Europe training pro athletes.
RW: Do you have a wife, girlfriend, or family? Any favorites?
I've been married for 2.5 years now and would love to have kids soon. Inshallah, as they say out here.
RW: Outside of work and business, what do you love to do? Like any hobbies?
I love to play any type of sports. Whether it's football (soccer), American football, ice or street hockey, frisbee, or anything else outdoors, I'm always down to play. I'm not too picky, for as long as I'm with my friends and family, I'm having a good time.
That's all with Dubai-based fitness trainer and Kinesiologist, Coach Nic this time. With his searing ambition to do even more, the release wire looks forward to catching up with him another time.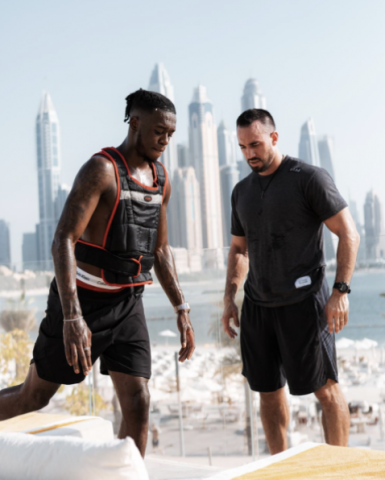 To contact "Coach Nic", visit his Instagram page or use the media contact outlets below.
Media Contact
Company Name: Verifiedinsta
Contact Person: Media Relations
Email: Send Email
Phone: 8777428811
Address:261 Old York Road, Suite 930
City: Jenkintown
State: PA
Country: United States
Website: https://www.instagram.com/coachnic_/?igshid=19db1albem35f