Authors 2 Know & Books 2 Buy National Book Tour reaches Global audiences in Ireland and South Africa amidst the pandemic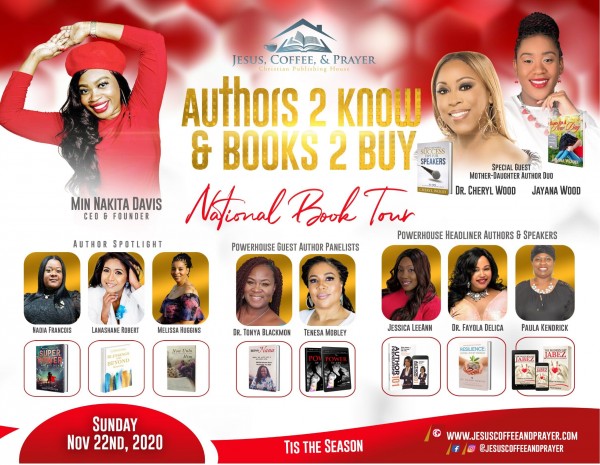 This holiday season, Min. Nakita Davis, CEO of Jesus, Coffee, and Prayer Christian Publishing House LLC and her team have created the "Authors 2 Know" & "Books 2 Buy" National book tour as an extension of her Award-Winning brand, filled with Faith, Sisterhood, Books, and Speakers!
Min. Nakita Davis is no stranger to connecting and collaborating with Global leaders and Women of Great Purpose throughout the year. The National Tour turned Global, reminded readers worldwide that "Books still make Great Stocking Stuffers and Jesus is the Reason for the SEASON!" says Davis.
With nearly 40,000 views over the Thanksgiving weekend, it's fair to say that the National book tour will be back.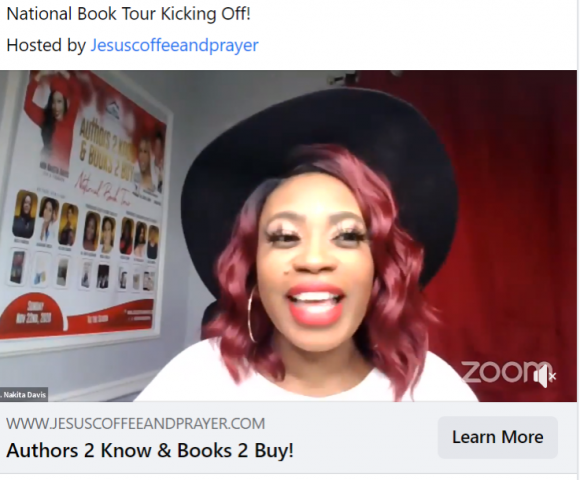 Catch the Replay Here
Event Special Guest included the Dynamic Mother Daughter Duo: Dr. Cheryl Wood & Jayana Wood
As the featured Special Guest, Dr. Cheryl Wood highlighted her journey as both a World-Renowned author and speaker. In her 1×1 chat with Min. Nakita Davis, she transparently shares her humble beginnings, obstacles faced, how she found the strength to overcome and push towards Success! She adamantly gives Glory to God and helps women around the globe to level-up their speaker platform as a Master Speaker Coach. Speakers and those who aspire should grab her chart-topping book entitled: Success Tips for Speakers: 50 Tips to Jump Start Your Speaking Career.
Follow Dr. Cheryl Wood FB: @impactnationwen IG: @cherylwoodempower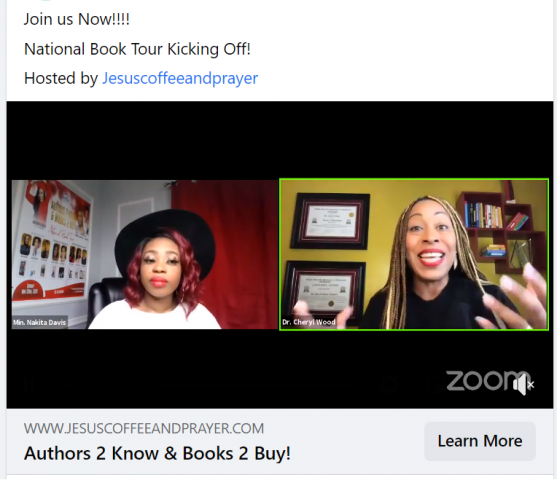 Jayana Wood, is a 3x author and entrepreneur by the tender age of 16! In her 1st Novel Dawn of a New Day The main character, Dawn Smith is a 20-year old African-American woman who tragically lost both her parents during a home invasion. As Dawn embarks on a journey of anger and revenge to discover who killed her parents, she unexpectedly finds forgiveness, friendship and inner peace.
Jayana is currently a junior student at Oxon Hill High School as a part of the STEM Program and a contributing writer for her school's newspaper and the Drama club.
According to Davis: "Jayana is wise beyond her years; articulate and driven. This young Queen is going places and definitely one to watch!"
Follow Jayana Wood IG @theexonerationseries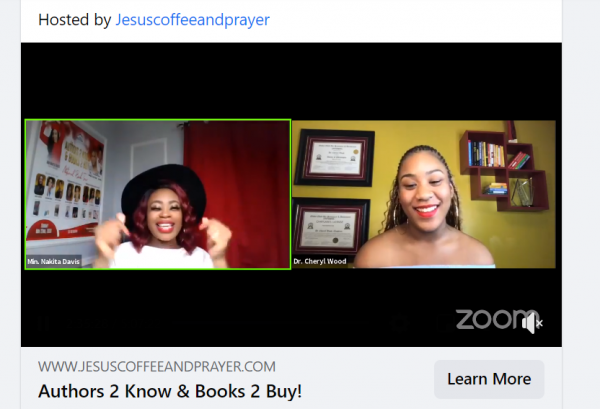 The National Book Tour included Amazing Women from east coast to west coast and all the way to South Africa too!
Powerhouse Headliners & their books included:
Jessica LeeAnn author of Author Preneurship 101
Dr. Fayola Delica coauthor of Resilience: Living Life By Design
Paula Kendrick: The Modern Day Jabez
Powerhouse Guest Author Panelists & their books included:
Dr. Tonya Blackmon author of Boss Nana
Tenesa Mobley author of The POWER of You
Author Spotlight included:
Nadia Francois Visionary author of: What's Your Super Power Anthology
Lanashane Robert author of: Blessings and Beyond Knowing
Melissa Huggins author of: Now Unto Him
Jesus, Coffee, and Prayer Christian Publishing House LLC. gives a Big Shout Out their Queen Sponsors:
Jenelle Harris CEO & Founder of SheExist
Frances Jones, M.A future author of Overcoming the Emotional Stigmas of Infertility: Barren but Not Ashamed
Charmaine Parker Lewis 2x Best-Selling Author of Broken Pencils: A Devotional for Teachers
For more on all Authors 2 Know & Books 2 Buy click Here: https://linktr.ee/authors2knowbooks2buy
Media Contact
Company Name: Jesus, Coffee, and Prayer Christian Publishing House LLC
Contact Person: Min. Nakita Davis
Email: Send Email
Phone: (1) 833.333.0733
Country: United States
Website: www.jesuscoffeeandprayer.com