Lancet Market Projected to Grow due to Increasing Product Popularity in Homecare Setting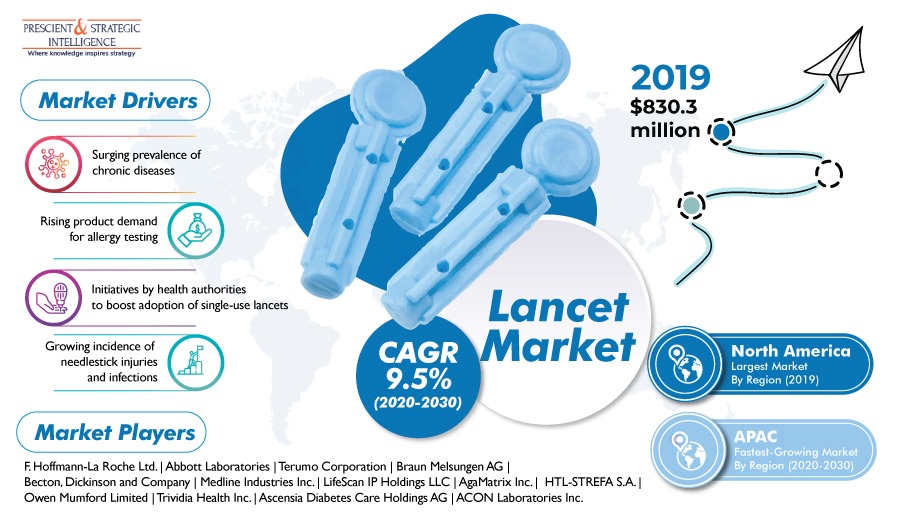 The global lancet market to witness a 9.5% CAGR during forecast period by P&S Intelligence.
The global lancet market generate a revenue of $830.3 million in 2019, and it is projected to advance at a 9.5% CAGR during 2020–2030. The increasing adoption of such instruments for testing allergies, rising prevalence of chronic diseases, growing incidence of needle stick injuries and infections, initiatives that are aimed at encouraging the usage of single-use lancets are leading to the growth of the market.
On the basis of application, the market is divided into hemoglobin testing, coagulation testing, and glucose testing, out of which, the glucose testing division accounted for the major share of the market in 2019. The division is further expected to advance at the fastest pace during the forecast period, owing to the increasing number of patients who are being diagnosed with diabetes. For the management of diabetes, the units of insulin that are being administered need to be regulated, which is why, blood sugar level needs to be measured periodically as well.
Download sample copy of this report: https://www.psmarketresearch.com/market-analysis/lancet-market/report-sample
The surging incidence of chronic diseases is a key driving factor of the lancet market. Chronic diseases such as cardiovascular diseases, chronic obstructive pulmonary disease, diabetes, and cancer are leading to the high demand for minimally invasive blood-drawing devices, such as lancets. As per the WHO, 9.6 million people are killed because of cancer each year. Lancets are being extensively utilized for diagnosing these diseases during the early stages for bringing down the mortality rate.
A key trend being registered in the lancet market is the rising utilization of lancets in homecare settings. The demand for lancets that are easier to use for individuals has been increasing rapidly since the past few years. Furthermore, the companies in the domain are also focusing on catering to the needs of the customers, which is why, the popularity of these instruments has increased considerably, primarily among the elderly and diabetic patients. The increasing use of these instruments is expected to drive the market in the coming years.
Abbott Laboratories, F. Hoffmann-La Roche Ltd., B. Braun Melsungen AG, Terumo Corporation, Medline Industries Inc., Becton, Dickinson and Company, AgaMatrix Inc., LifeScan IP Holdings LLC, Owen Mumford Limited, HTL-STREFA S.A., Ascensia Diabetes Care Holdings AG, Trividia Health Inc., SARSTEDT AG & Co. KG, ACON Laboratories Inc., and Ypsomed Holding AG are the key companies in the global lancet market.
Browse full report at: https://www.psmarketresearch.com/market-analysis/lancet-market
Market Size Breakdown by Segment
By Type
Safety

Push-button
Pressure-activated
Side-activated

Standard
By Application
Glucose Testing
Coagulation Testing
Hemoglobin Testing
By Gauge Size
By End User
Hospitals and Clinics
Diagnostic Centers
Homecare Settings
By Geography
North America
Europe

Germany
France
U.K.
Italy
Spain
Russia
Poland
Netherlands
Belgium
Switzerland
Sweden
Finland
Norway

Asia-Pacific

China
India
Japan
Australia
Thailand
South Korea
Indonesia
Singapore

Latin America

Brazil
Mexico
Argentina
Chile
Peru

Middle East & Africa

Saudi Arabia
South Africa
U.A.E.
Israel
Browse More Reports
Defibrillator Market – https://www.psmarketresearch.com/market-analysis/defibrillator-market-forecast
Coagulation Testing Market – https://www.psmarketresearch.com/market-analysis/coagulation-testing-market
Media Contact
Company Name: P&S Intelligence
Contact Person: Abhishek
Email: Send Email
Phone: +918887787886
Address:Noida Sector 2
City: Noida
State: UP
Country: India
Website: https://www.psmarketresearch.com/market-analysis/lancet-market