Driven by Rising Incidence of Cancer, Global Gene Therapy Market to Register Explosive Growth in Near Future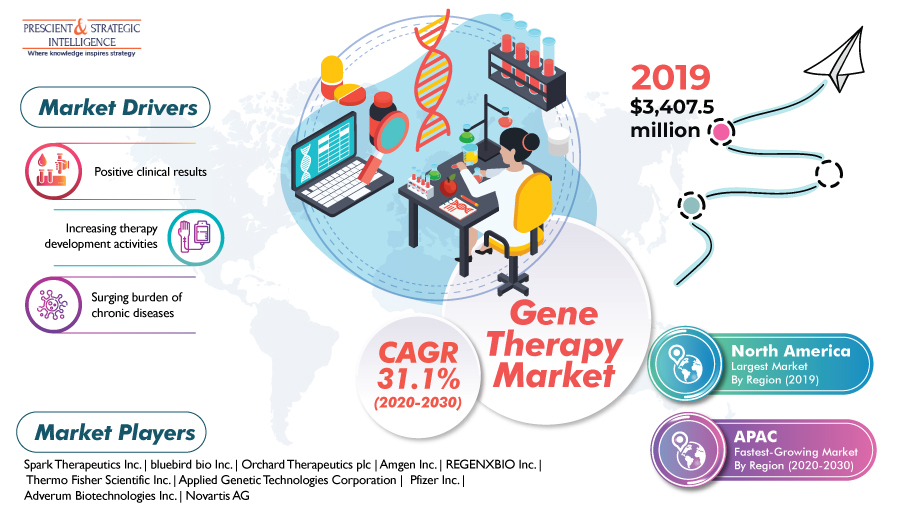 The global gene therapy market to witness 31.1% CAGR during 2020–2030 by P&S Intelligence.
The global gene therapy market was valued at $3,407.5 million in 2019. According to the forecast of P&S Intelligence, a market research company based in India, the market will advance at a CAGR of 31.1% between 2020 and 2030. The positive results of various clinical trials, the increasing prevalence of chronic diseases, and the soaring R&D (research and development) activities being conducted in gene therapy are the main factors fueling the advancement of the market.
The rising prevalence of chronic diseases such as cancer and many rare diseases is a major growth driver of the gene therapy market. This is because the gene therapies, that are currently available to healthcare professionals, have the ability to treat various rare diseases, especially the ones that have genetic causes. For example, cancer therapies do not require long-term transgene expression. There has been a sharp rise in cancer cases throughout the world in recent times.
Request for sample copy of this report: https://www.psmarketresearch.com/market-analysis/gene-therapy-market/report-sample
According to the American Cancer Society, the number of new cancer patients increased in the U.S. from 1,685,210 in 2016 to 1,762,450 in 2019. Furthermore, the organization found that cancer mortality rose from 595,690 to 606,880 from 2016 to 2019 in the country. Because of these factors, the requirement for gene therapy grew massively in the country over the last few years. Depending on type, the gene therapy market is divided into in vivo and ex vivo.
Across the globe, the gene therapy market is predicted to register the fastest progress in the Asia-Pacific (APAC) region in the upcoming years. The presence of cost-effective labor, the rising operations of prominent market players, and the emergence of several group investors are the main factors fueling the expansion of the market in this region. In addition to this, the APAC nations are increasingly enacting regulations and policies for regulating the production and approval procedures of various gene therapy products.
Browse full report at: https://www.psmarketresearch.com/market-analysis/gene-therapy-market
Market Size Breakdown by Segment
By Type
By Vector Type
Viral

Adeno-associated virus (AAV)
Adenovirus
Lentivirus
Retrovirus

Non-Viral
By Application
Oncology
Rare Diseases
Neurology
Ophthalmology
Hematology
Infectious Diseases
Cardiology
By End User
Pharmaceutical and Biotechnology Companies
Academic Institutes and Research Centers
By Geography
North America
Europe

Germany
France
Italy
Spain
U.K.

Asia-Pacific

Japan
China
India
South Korea

Latin America
Middle East and Africa

Saudi Arabia
South Africa
Browse More Reports
Carrier Screening Market – https://www.psmarketresearch.com/market-analysis/carrier-screening-market
Genomics Market – https://www.psmarketresearch.com/market-analysis/genomics-market-revenue

Media Contact
Company Name: P&S Intelligence
Contact Person: Abhishek
Email: Send Email
Phone: +918887787886
Address:Noida Sector 2
City: Noida
State: UP
Country: India
Website: https://www.psmarketresearch.com/market-analysis/gene-therapy-market